Dr. Ilona Kovalszky and Dr. Kornélia Baghy
Research projects and results
Results gathered in the last decade clearly proved that tumor stroma actively participates in the proliferation and invasion of cancer. These results profoundly changed our understanding about the principles of cancer. This implies that for successful treatment of tumors not only cancer cells but also stromal components have to be targeted.                             Extracellular matrix and particularly liver proteoglycans are in the focus in our research for 25 years. Changes of syndecan1, agrin, and decorin expression in experimental and human liver cirrhosis and cancer have been studied. This was followed by in vitro analyses of proteoglycan transfected hepatomas, and transgenic mouse models, Our results demonstrated the protective role of decorin against liver cirrhosis and cancer, the diagnostic potential of agrin in human liver cancer, and the potential role of heparan sulfate and syndecan1 in the regulation of nuclear functions. Recently we started to study the events of hepatoma and  tumor associated fibroblasts interactions, including the role of proteoglycans. We hope that the better understanding of the tumor-microenvironment interactions provide new approaches for the better management of cancer.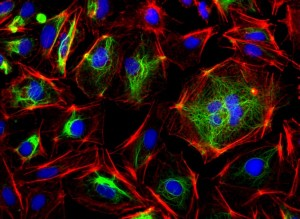 Cancer cells surrounded by myofibroblasts PRed: vimentin (myofibroblast); green: citokeratin (tumor cells); blue: DAPI (nucleus).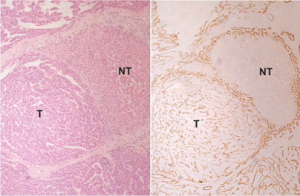 Agrin immunostaining recognizes HCC (T) in cirrhotic liver. (NT: non tumorous liver tissue). Left: hematoxilin-eozin staining,  Right: agrin immunostaining.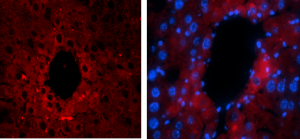 Decorin hydrodinamic gene transfer. Note hepatocytes surrounding the central veins. Decorin from the construct, driven by albumin promoter, fills up the cytoplasm of hepatocytes.
Publications:
Baghy K, Tátrai P, Regös E, Kovalszky I. Proteoglycans in liver cancer. WORLD JOURNAL OF GASTROENTEROLOGY 22:(1) pp. 379-393. (2016)
Fullár A, Dudás J, Oláh L-né, Hollósi P, Papp Z, Sobel G, Karászi K, Paku S, Baghy K, Kovalszky I. Remodeling of extracellular matrix by normal and tumor-associated fibroblasts promotes cervical cancer progression. BMC CANCER 15(1):256. (2015)
Horvath Z, Kovalszky I, Fullar A, Kiss K, Schaff Z, Iozzo RV, Baghy K. Decorin deficiency promotes hepatic carcinogenesis. MATRIX BIOLOGY 35: pp. 194-205. (2014)
Fullar A, Baghy K, Deak F, Peterfia B, Zsak Y, Tatrai P, Schaff Z, Dudas J, Kiss I, Kovalszky I. Lack of Matrilin-2 Favors Liver Tumor Development via Erk1/2 and GSK-3 beta Pathways In Vivo. PLOS ONE 9:(4) Paper e93469. 11 p. (2014)
Baghy K, Horvath Z, Regos E, Kiss K, Schaff Z, Iozzo RV, Kovalszky I. Decorin interferes with platelet-derived growth factor receptor signaling in experimental hepatocarcinogenesis. FEBS JOURNAL 280:(10) pp. 2150-2164. (2013)
Péterfia B, Füle T, Baghy K, Szabadkai K, Fullár A, Dobos K, Zong F, Dobra K, Hollósi P, Jeney A, Paku S, Kovalszky I. Syndecan-1 Enhances Proliferation, Migration and Metastasis of HT-1080 Cells in Cooperation with Syndecan-2. PLOS ONE 7:(6) Paper e39474. 13 p. (2012)
Members of the group:
Prof. Ilona Kovalszky, MD,PhD,DSc
Dr. Kornélia Baghy PhD
Zsolt Horváth, biologist
Dr. Eszter Regős, resident
Karászi Katalin PhD student
Dr. Zsolt Mervai, PhD student
Kristóf Rada, PhD student
Andrea Reszegi PhD student
Szabolcs Bozsányi, medical student
Collaborations:
Professor Renato Iozzo, Thomas Jefferson University, Philadelphia, USA
Professor Nikos Karamanos, University of Patras, Greece
Professor Martin Götte, University of Münster, Germany
Professor Alberto Passi, Insubria University, Italy