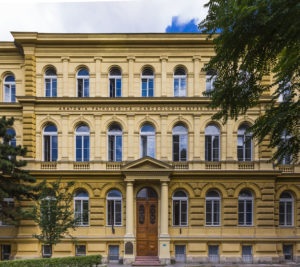 The 1st Department of Pathology and Experimental Cancer Research is widely recognized as one of the leading pathological centres in Europe due to its tradition-based innovative activity in all aspects of this discipline.
The Department acts according to the need of medicine and the changing world around us by offering general and specialised pathology services for many subspecialities, by participating in high level scientific activities and taking part of the Univerisity's graduate and postgraduate education in Hungarian, English and German language.
Clinical service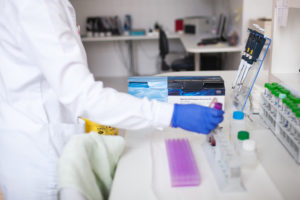 Semmelweis University is the largest health care institution in the country, therefore our Department has a duty to provide the highest level pathological service for many clinics from cytology to molecular diagnostics.
We cover many of the subspecialties, including
Breast Pathology
Dermatopathology
Fetopathology
Gynecologic Pathology
Head and Neck Pathology
Heart and Vascular Pathology
Hematopathology
Liver Pathology
Neuropathology
Pancreatic pathology
Pediatric Pathology
Pulmonary Pathology
Renal Pathology
Soft tissue and Bone Pathology
Molecular oncology
General surgical and cytopathology
Autopsy Pathology
Education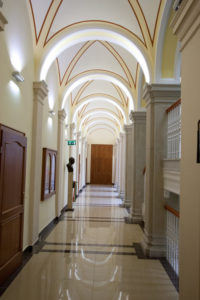 Pathology is considered as a basis for practicing medicine therefore all facilities are used to increase the knowledge, the skill, and the attitude of the graduate and postgraduate students.
Lectures outline the backbone of the discipline (filled by the textbooks), help to identify the key points, to raise questions and reach the answer step-by-step – there is always an emphasis on the importance of the unity between structure and function.
Autopsies are important part of training offering an impression on the macroscopical changes behind the diseases which is essential to understand the basic diagnostic results as well as the clinical history and to evaluate the cases.
Microscopes were traditionally used to study the cellular changes, but now the Department uses slide-digitalization technology to increase the effectivity in education.
Short history of the department
A royal permission made possible to introduce the regular course of Pathology in the Medical Faculty of Pázmány Péter University (1844). This was the fifth Department of Patholgy in Europe.
The founder, Lajos Arányi, wrote the first textbook (in Hungarian) and established the core of a still used collection of fixed specimens.
The Department moved to the recent building at the turn of the XIX-XX century. The extended name (Experimental Cancer Research) was given at the 1930s acknowledging the outstanding oncological research. Besides teaching and the scientific activity the Department contributed a lot to health care, partly as a routine diagnostic station, partly adopting and developing new techniques.
The past decade witnessed the reconstruction of almost every corner of the house, that mixed the old heritage with contemporary structure and function, supporting the staff to form a very competitive professional community.