Background
The Department of Periodontology, founded in 1997, is the first independent periodontical department in Hungary. Nevertheless, periodontology has been formally taught since the foundation of the Faculty of Dentistry (1955). Before 1997, the periodontal department was one of the divisions of the Department of Oral and Maxillofacial Surgery. Dr. László Sugár and Prof. Kornélia Sallay were the pioneers of periodontology here in Budapest.
Profile
Periodontal and oral mucous membrane diseases.
Education
Periodontology is taught over four semesters in Hungarian, English and German.  Eighteen dental units are available for undergraduate students on the 2nd floor of the building.
Health Care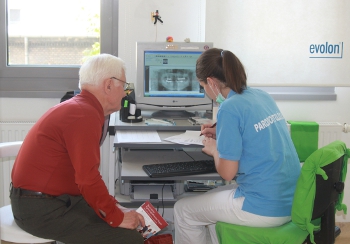 The Department occupies the 4th floor of the new Dental Clinical Centrum. It has  seventeen  dental chairs  serving the faculty practice and postgraduate residency programs. The  annual patient turnover is very high. Annually, the seven faculty members and the periodontal residents, with the help of their students,  treat  approximately 14,000-15,000 patients. Patients with gum and periodontal diseases and also those with oral diseases are treated and followed up. Annually, 1500 to 2,000  periodontal surgeries and  comprehensive periodontal reconstructions are carried out. Patients are accepted from all over Hungary.
Research
The Department participates in one accredited Ph.D. programme, and currently has three Ph.D. students. Research activities of the Department include topics in periodontal-guided tissue regeneration, mucogingival surgery,  genetic polymorphism studies periodontal biomaterial research and periodontal epidemiology.