Institute of Medical Microbiology has a long history, in 2018 we celebrated the 70th anniversary of its existence. Brief overview of the Jubilee celebration is available here.
Led by Endre Hőgyes, education of microbiology originally started in 1883 at the General Institute of Pathology and Bacteriology It operated in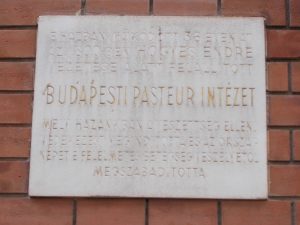 the former Pasteur Institute in Budapest. Microbiology as an independent subject was educated for the first time in 1948 at Semmelweis University by a separated organizational unit called Institute of Bacteriology and Immunology. It was renamed by its first director, Ferenc Faragó as Microbiology Insitute in 1950, then from 1999 it became known as Institute of Medical Microbiology. From 1978 our Institute is found on the 9-11th floor of Semmelweis University Nagyvárad téri Elméleti Tömb (NET) and we also have Piroska Anderlik Experimental Animalhouse on the 22nd floor.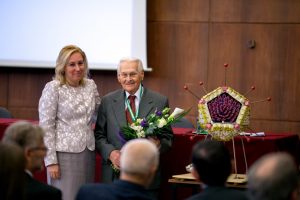 In 2017 we won the opportunity to organise 26th Semmelweis Symposium. The two-day event  was organized under the title "New challenges in microbiology", where more than 30 lectures were performed. 10 foreign lecturers accepted our invitation to the symposium, our guests came from famous institutes, such as Institut Pasteur (Paris) and Institute Karolinska (Stockholm). Brief overview of the event is found here. In the same year we celebrated the 90th birthday of Széchenyi Prize Winner Dr. István Nász Professor emeritus, the founder and former director of our Institute. 
Former Directors of our Institute:
Endre Hőgyes: 1883–1906
Hugó Preisz: 1907–1931
Sándor Belák: 1932–1947
Ferenc Faragó: 1948–1950
Zoltán Alföldy: 1950–1974
István Nász: 1974–1994
Éva Ágnes Ádám: 1994–1995
Piroska Anderlik: 1995–1996
Ferenc Rozgonyi: 1996– 2003
Zsuzsanna Fürst: 2003–2004
Károly Nagy: 2004-2014
Dóra Szabó: from 2014-
Relics, archives and yearbooks can be found from different periods of our Institute at the Museum of Microbiology on the 9th floor of NET- "Ad perpetuam rei memoriam".