It is our great pleasure to cordially invite you to the 2016 Semmelweis Symposium, the major annual scientific event at Semmelweis University in Budapest, Hungary.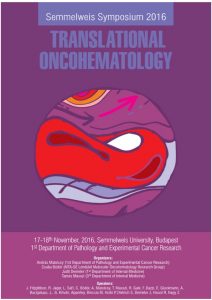 The 2016 Semmelweis Symposium will be dedicated to the topic of translational oncohematology. The goal of the conference is to foster scientific exchange between clinicians and laboratory scientists working in oncohematology worldwide. The meeting will cover different aspects of haematological malignancies from pathogenesis and diagnostics to novel targeted therapies and stem cell transplantation.
A selection of world-renowned speakers will ensure the highest quality of science and provide the attendees with the most recent advances of the field. The program will include plenary educational sessions, presentations of scientist working at Semmelweis University and poster presentations.
We look forward to meeting you at this exciting scientific event in November 2016.
The Organizers:
András Matolcsy, Csaba Bödör, Judit Demeter & Tamás Masszi
Date:
November 17-18, 2016
Venue:
Semmelweis University, 1st Department of Pathology and Experimental Cancer Research
Speakers:
J. Fitzgibbon, R. Jager, L. Saft, C. Bödör, A. Matolcsy, P. Király, D. Veres, T. Masszi, R. Gale, F. Dazzi, K. Németh, Z. Pós, J. Sinkó, E. Gluckmann, J. Sinkó, G. Kriván, J. Apperley, P. Holló, J. Demeter, R. Houot, Z. Nagy.