40th anniversary of international medical education at Semmelweis University
November 07-09, 2022
Semmelweis University, Basic Medical Science Center, Budapest, Hungary 
Semmelweis Symposium is the most prestigious annual scientific event of Semmelweis University, which presents the latest scientific results and innovations and is an excellent forum for international knowledge transfer and networking. 
The scientific program of the 2022 Semmelweis Symposium is organized around the 40th anniversary of international medical education at Semmelweis University covering a wide range of topics.
Keynote lectures are to be held by internationally recognised experts, alumni and esteemed collaborators of Semmelweis University. Sessions and posters on new trends in medicine, dentistry, pharmaceutical and health sciences are being to provide an unforgettable scientific experience.
We are looking forward to welcoming you and sharing with you an excellent time in Budapest.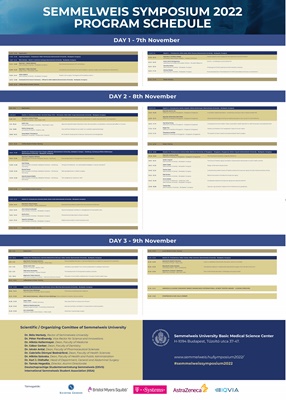 Language of the Symposium is English 
For Hungarian doctors, pharmacists and dentists: 46 CME credits (Continuing Medical Education Credits)
OFTEX SE-TK
GYOFTEX SE-GYTK 
For PhD Students of Semmelweis University:
1 credit for participation
2 credits for accepted poster abstracts
3 credits for Semmelweis Best Poster Award Winners
Attendance is free, but registration is required!