Individual services
Before the sessions, all applicants take part in an individual examination and counseling, on the basis of which an individualized development plan is drawn up based on the goals agreed with the parents.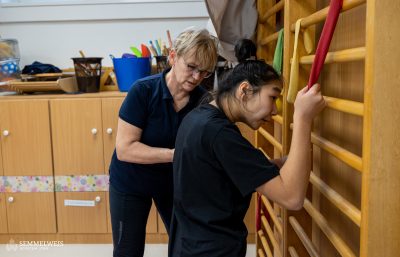 Due to the basic principles of the conductive pedagogical method, it can already be used with babies, and the best efficiency can be achieved if the development begins as soon as possible. Our individual programs are open to children and adults from 0-99 years old. 
We consider it essential that children and their parents are motivated, as this is the main key to learning. That is why playfulness is an important aspect. In our sessions accompanied by songs and rhymes, we also emphasize the initiation of speech and the development of communication.
Duration of the development: according to discussion (approx.: 1-1.5 hours)
In order to achieve the goals, we pay great attention to cooperation and contact with the family and other specialists (neurologist, orthopedic doctor).
Adapting to the individual goals of the child, we place special emphasis on:
for learning elementary gross movements and fine movements,
sensomotor development,
to develop communication,
to develop cognitive abilities (attention, memory, thinking),
to learn self-service, eating.