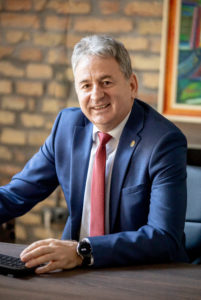 The current pandemic poses serious challenges to higher education and raises a number of questions, in particular with regard to international mobility programmes and the future of international relations in general. At the same time, the ongoing domestic and international situation provides an opportunity to rethink and reconsider the existing processes as well as our strategic ideas.
We have been contacted by our partners from all over the world concerning the continuation, further strengthening and expansion of relations. We have been proposed intensified international collaboration, transfer of experience, direct assistance, as well as joint research. We have also been offered different protective equipment and supply methods, all of which has reinforced our commitment to the internationalization process at Semmelweis University. Clearly, there has also been something to learn: although the development of the world and the broadening of international relations might have risks, we should not be discouraged. As a biomedical and healthcare institution, Semmelweis University has an unequivocal role to play and an example to set in dealing with similar situations.
Nothing demonstrates our commitment more than the fact that students from more than 70 countries around the world continue to study at our university. Why? Hungary is considered to be safe, the university provides quality training, which has adapted in all respects to the expectations of online education, and Budapest is a wonderful city, which still offers affordable livelihood.
We believe that with the rise of the online age, the importance of personal relationships has not diminished: the online world cannot replace a handshake or the experience gained in a different environment, country or institution. Although distance learning has triggered considerable development, we continue to support gaining personal experience in other countries, higher education institutions and healthcare systems, thus acquiring intercultural competencies suitable for training excellent professionals at our university in accordance with the expectations of the labour market.
Dear current and future partner, we truly hope you continue to consider Semmelweis University as one of your future partners in Central Eastern Europe in the fields of biomedical training, RDI and patient care.
Dr. Marcel Pop
Director