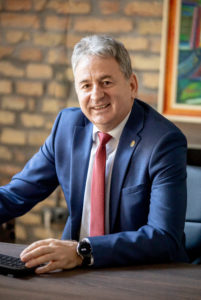 Although in the spring of 2020 the coronavirus set foot in Hungary, which has since grown into a global pandemic, Semmelweis University has been true to its mission and vision and has been working hard to become one of the world's top 100 universities. The epidemic has significant transformed higher education both within our borders and beyond. The changes have become integral part of our daily lives and have reshaped the way we think about how we want to achieve the University's strategic goals.
Our international relations have become even more valuable, as finding a solution to a global problem can only work if done together, supporting each other. We have been constantly in touch with our international partners. Our virtual and face-to-face meetings have placed particular emphasis on intensive international cooperation, experience and knowledge exchange, joint research projects and direct assistance of each other.  In the most difficult times, our partners have helped us by donating protective equipment, while our university has contributed excellent manpower and expertise to disease control abroad.
Beyond our mutual goal to fight the coronavirus, we believe it is important for our university, which is  one of the world's most internationally recognized higher education institutions, to maintain its reputation, further improve its international recognition and develop its network. Its role in international higher education is reflected in the figures: for the academic year 2021/2022, students from 97 countries have chosen Semmelweis University, who represent one third of all students. We are proud to have a truly multicultural student community within the walls of our university with over 250 years of tradition, where tradition and innovation shape our mission and vision. The practical focus of our academic programs, the high quality of our theoretical education, the international competitiveness of our degrees, our extensive international research networks, our modern facilities and our close collaboration with industrial partners in education and research continue to attract not only students and researchers, but also competitive industry players in the global higher education market.
It is of key importance to nurture and continuously develop our existing relationships and to explore new opportunities for collaboration and partnerships. Keeping pace with the dynamic changes in the international political, economic and social processes requires a high degree of flexibility, adaptability and an innovative approach. We are therefore working with our existing and new partners to find mutually beneficial grounds of cooperation in education, research, development, innovation and patient care. In these areas we can only achieve and maintain our prominent international presence if we are not only participants but also shapers of global trends. And this can only be achieved in international partnership by working closely together with international partners.
Dr. Marcel Pop
Director