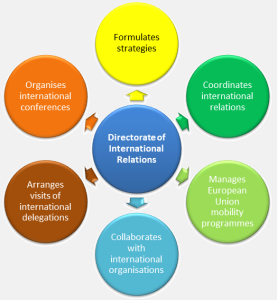 Semmelweis University's Directorate of International Relations strives to explore and establish new collaborative ties around the world thus allowing the University to successfully fulfil its mission in education, research and healthcare. One important aspect of the fulfilment of this objective is the coordination and improvement of student, teacher and research mobility programmes. We likewise consider it important to allow our researchers to take part in the global market of knowledge which can only be achieved through international collaboration. Our Directorate contributes to these objectives both in strategic and practical terms. Taking the above into account, the Directorate:
Contributes to the formulation of the University's international strategy
Strives to promote the University's international profile,
Coordinates the tasks inherent to the University's agreements with its international partners,
Coordinates the tasks related to the mobility programmes (Erasmus+ ICM, CEEPUS, Campus Mundi) funded by the European Union,
Fulfils the University's duties in relation with its various memberships in professional international organisations,
Arranges the foreign travels of the University's leaders,
Organises the programmes and agendas of foreign delegations visiting the University,
Contributes to the international visibility and promotion of the University,
Manages the University's English central website and German sub-website.