Semmelweis University is not only Hungary's oldest medical school and one of the largest healthcare providers, but also one of Europe's leading English and German language training institutions. More than a third of its almost 12,000 students came from beyond our borders, from around 100 countries in the last academic year 2021/22, forming a truly multicultural community.
Since the start of German-language medical training in 1983, Semmelweis University has dynamically developed its international training offer. Today, the institution offers education in several languages, and all six faculties and doctoral schools of the university offer foreign-language graduate training in medicine and health sciences.
Currently, the Faculty of Medicine and the Faculty of Dentistry have the highest number of international students.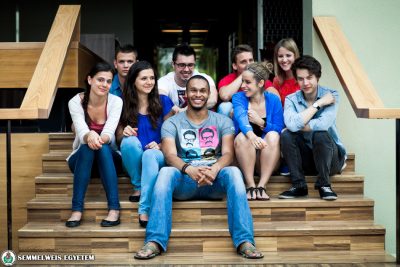 Semmelweis University places great emphasis on the cohesion of its multicultural student community and the integration of international and Hungarian students through multilingual education and orientation, international events, and programs promoting mutual understanding and rapprochement of nations and cultures. The integration of international students is also supported by the Students' Union and international student organizations.
In addition to its central campus in Budapest, the institute also trains professionals at international training centres in Germany, Romania, Switzerland, Serbia and Slovakia.
Furthermore, Semmelweis University welcomes students from abroad through a number of international programs including Erasmus, Stipendium Hungaricum, Diaspora and Students at Risk (St@R).
With tens of thousands of members, the Semmelweis Alumni community can be found almost everywhere in the world today. Through their outstanding achievements, these professionals contribute to the development of medical and health sciences and also to the positive image of Semmelweis University and Hungarian higher education.
The university has all the qualities – strong traditions, innovative approach, dedicated and highly qualified professionals, world-class, practice-oriented international education, remarkable scientific and clinical achievements – to become one of the best universities in the world, and the most sought-after destination for medical and health science education in the region.