Dr. Hans Kluge, Regional Director for Europe of the World Health Organization (WHO) visited Semmelweis University, where he talked about expanding collaboration opportunities during his meeting with Dr. Béla Merkely, Rector. Dr. Kluge expressed his appreciation for the university's outstanding role in infection control during the coronavirus epidemic in Hungary.
"It is important that people trust science, since this will help us prepare for the future, and Semmelweis University has a significant role in this respect", said Dr. Hans Kluge, Regional Director for Europe of the World Health Organization (WHO) during his visit at Semmelweis University.
He pointed out that both WHO and Semmelweis University are at the forefront of innovation and development, with a strong emphasis on comprehensible communication, and both aim to become European centers of excellence. Dr. Kluge also emphasized the close cooperation between the two organizations mentioning the collaboration with the Institute of Behavioral Sciences as an example or the role of the Health Services Management Training Center as a WHO Collaborating Center with a particularly strong focus on digital health.
"I see further opportunities for collaboration in this area, but we would like to expand our relationship with Semmelweis University in other fields as well" said Dr. Hans Kluge, mentioning the areas of regional research, innovation and eHealth.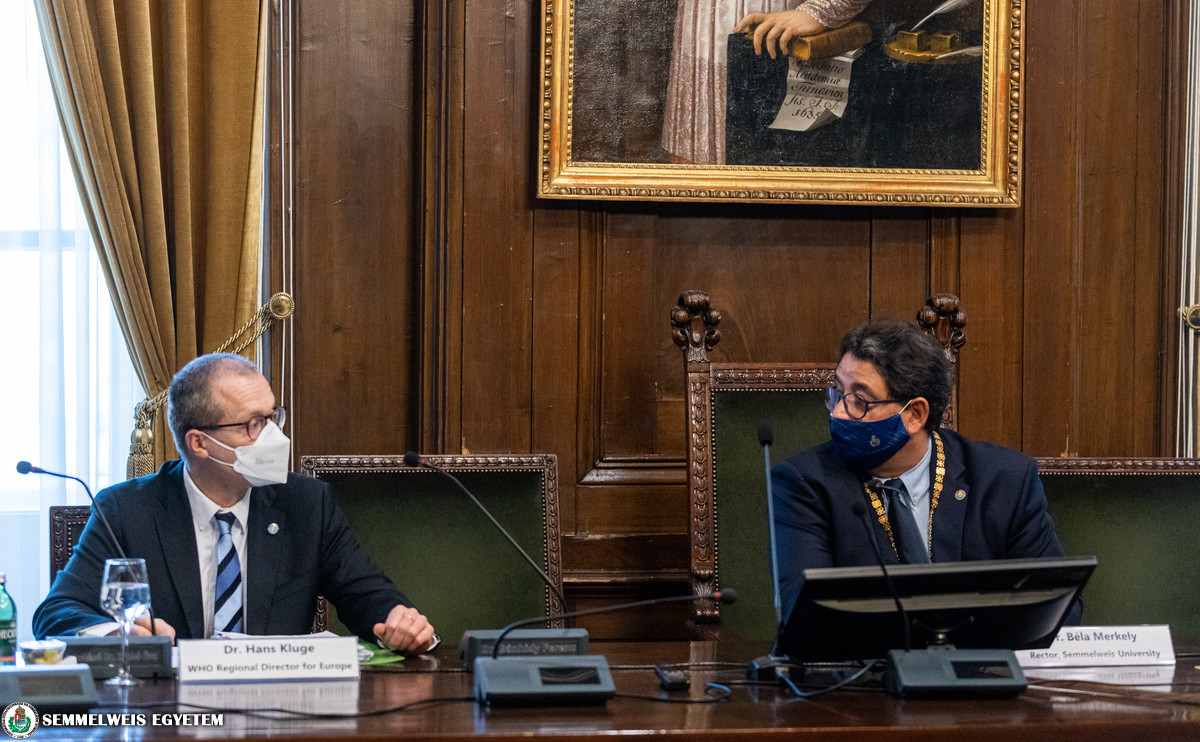 He highlighted the Pan-European Transformational Leadership Academy recently launched by WHO, which aims to improve the training of health leaders in regions such as the Western Balkans or Central Asia, adding that the knowledge of Semmelweis University could be extremely useful in this work. Dr. Kluge also said that they aim to serve WHO member states more effectively, therefore, they would like to rely more on the knowledge of higher education partners such as Semmelweis University in the future, and to work more closely together on a regional level.
Dr. Hans Kluge expressed his appreciation for the outstanding role Semmelweis University played in infection control during the coronavirus epidemic in Hungary, both in terms of patient care and testing, as well as in research and innovation activities related to the epidemic. He also spoke about Hungary's vaccination strategy with acclaim, which allowed healthcare workers and medical students to participate  in the fight against the pandemic with full force.
At the meeting, Dr. Béla Merkely, Rector emphasized that the university is open to expanding the cooperation with WHO in further areas as well. The rector pointed out that Semmelweis University, as one of the largest COVID patient care providers and vaccination centers in Hungary, has considerable experience, and is ready to share its knowledge through international partnerships. Dr. Attila Szabó, Vice-Rector for Clinical Affairs, President of the Clinical Center, highlighted the developments of the university in the field of eHealth, meanwhile Dr. Miklós Kellermayer, Dean of the Faculty of Medicine, emphasized the achievements in the field of research, innovation and education, and also pointed out the university's participation in European alliances such as EUniWell and Eurolife.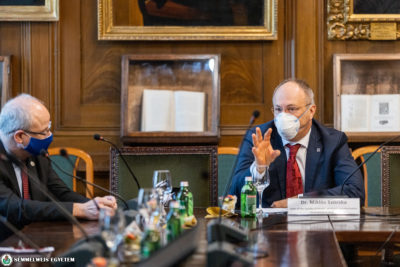 "Semmelweis University is active in many areas, we can add a great deal to such collaborations, therefore we are pleased to participate in further joint work with WHO", said Dr. Miklós Szócska, Dean of the Faculty of Health and Public Administration.
He highlighted the university's centralized eHealth system, which may be extremely useful in assisting clinical data mining or other comparative research. He also added that the university may also be a good choice for those looking for a professional partner in the region.
"Vaccine research, clinical business intelligence, or medical device development are all areas where Semmelweis University is at the forefront, but WHO may, for example, use the Semmelweis brand in international handwashing promotion campaigns as well", pointed out Dr. Miklós Szócska.
The delegation visiting Semmelweis University included Gundo Weiler, Head of the WHO European Country Support, Emergency Preparedness and Response Unit; Oxana Domenti, WHO Ambassador to the European Union; Ledia Lazeri, Head of the WHO Office in Hungary; as well as Szabolcs Szigeti, responsible for WHO National Office for Hungary.
Tamás Deme
Photo: Attila Kovács – Semmelweis University
Translation: Katalin Illés-Romhányi