Dr. Béla Merkely, Rector of Semmelweis University and Dr. Tomáš Zima, Rector of Charles University in Prague agreed about strengthening and further developing the current cooperation between the institutions during an online discussion held on 23 March, 2021.
The virtual meeting was initiated by Dr. Béla Merkely, Rector, who participated in the accreditation procedure of Charles University last year and as a member of the evaluation panel worked on the evaluation of the five medical and pharmaceutical faculties. The two institutions have already implemented a number of joint projects as members of international organizations, like CELSA and UNICA. In addition, Hungary has been in charge of leading the Visegrad Group (V4) since July 2021, which aims to support the visibility of the region and provides an opportunity to increase the international visibility of strategic goals, which may also further strengthen the relationship between the two universities.
During the meeting, both university leaders emphasized that they were open to a closer cooperation and were willing to further develop the collaboration between the two institutions. Dr. Béla Merkely presented the joint publication activity and said, he hoped that the improvement of the epidemic would strengthen the relationship and the development of educational and research cooperation.
"The concert, which is planned to be organized in September 2021 with the participation of the Medic Orchestra, could be an excellent opportunity for a personal meeting of the leaders of the two universities", pointed out Dr. Béla Merkely.
A special feature of the V4 Music Tour concert series is that Hungarian musicians are joined by medical students from Semmelweis University's partner institutions. After the concert in Budapest held in March 2020, the concert series will continue in Prague, Trnava and Krakow in 2021.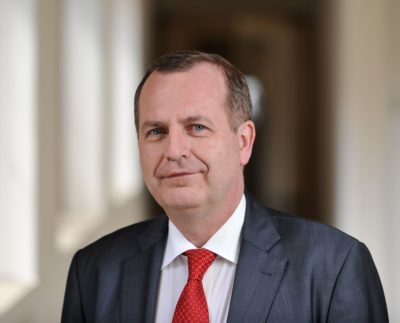 The concert in Prague will provide an opportunity for the two rectors, leaders of the universities and other professionals to continue the discussion.  Both Dr. Béla Merkely and Dr. Tomáš Zima agreed that a closer cooperation may also improve the position of both insitutions in international rankings. The Embassy of Hungary in Prague and the Embassy of the Czech Republic in Budapest are also in favor of strengthening the relationship between the two universities. At the end of the discussion, Dr. Béla Merkely invited the Rector of Charles University and his delegation to Budapest.
Diána Módos, Directorate of International Relations
Photo source: Directorate of International Relations; Attila Kovács, Semmelweis University; Charles University
Translation: Katalin Illés-Romhányi