Doctors and residents from Semmelweis University's Department of Dermatology, Venerology and Dermatooncology are studying tropical dermatological diseases at the Research Institute of Tropical Medicine (RITM) in Manila. In the framework of the nearly one-and-a -half-year long program, a total of 14 specialists and residents travel from Hungary to the Philippines in several cycles, and our University welcomes 12 Filipino colleagues who come to our country to learn about Caucasian skin diseases, specifically malignant skin tumors. The first Hungarian medical group has already returned, and the second team is currently in Manila. The first group of doctors from the Philippines is now in our country, its members were among the lecturers of the SkinAcademy between April 4-6th in Budapest, one day of which was dedicated to tropical skin diseases under the name Tropical Academy.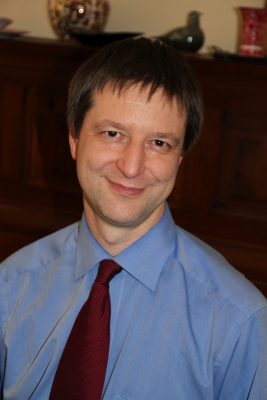 There is no exact data of the total prevalence of tropical skin diseases in Hungary, the reason for which might be that a certain percentage of cases are not even identified in lack of a diagnosis. However, we realize that there are more and more patients with tropical skin symptoms – mainly among emigrants and tourists returning from exotic destinations. At the Dermatology Department of Semmelweis University we see around 1-2 cases per month. It is important to prepare future doctors for the diagnosis and proper treatment of these diseases, which can only be achieved by incorporating the topic of tropical dermatology into our theoretical courses and practical training – emphasized Dr. Miklós Sárdy, director of Semmelweis University's Department of Dermatology, Venerology and Dermatooncology, and who himself was one of the participants of the six-member medical team which has already returned from Manila. He added: exotic skin diseases have not been part of the University's dermatology education so far, so it was possible to start a career as a dermatologist without seeing – not even on the theoretical level – a single case. This situation is a subject of change now. As a result of the cooperation with RITM, the topic of tropical dermatology became part of the curriculum, and it will also be incorporated into the new edition of the student textbook.  
Dr. Miklós Sárdy worked in Munich for 9 years, and is still spending two days a month in Germany working with healing and research. As he said, during his work he met many patients with tropical symptoms – mainly tourists and immigrants coming from exotic countries – which drew his attention to the importance of this medical field. He already participated in a study tour at the Research Institute for Tropical Medicine (RITM) in  Manila, the capital city of the Philippines, and to the Culion Island, where a famous leprosy hospital operates, a few years ago. During his visits he was impressed by the level of professional, scientific and educational work at RITM which he said was competitive with the activities of the most modern American institutions.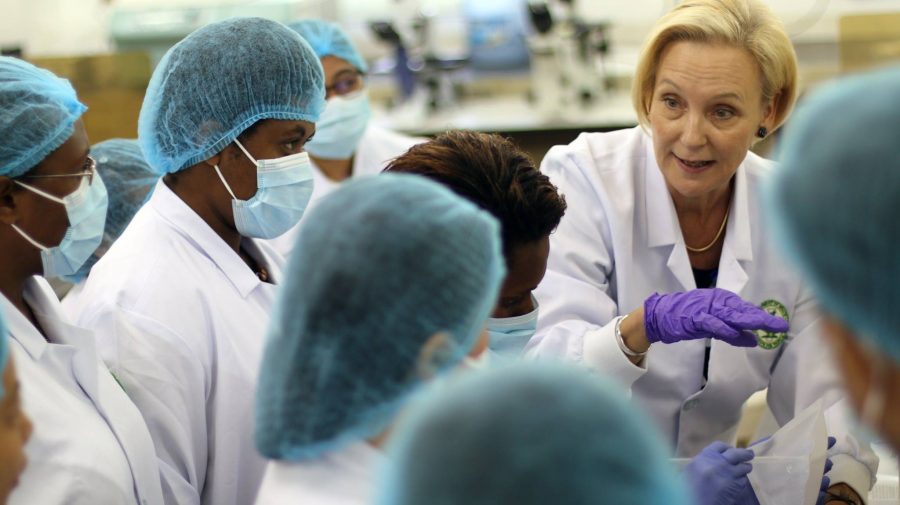 The Research Institute for Tropical Medicine (RITM), working directly under the local Ministry of Health, carries out education, research and patient care. As there is no education for resident doctors at the Medical University of Manila, RITM is responsible for the training of dermatology residents of the entire country of the Philippines, a country with a population of nearly 110 million. RITM plays an active role in patient care too: partly by treating patients coming to the institution and partly in the form of missions to regions where there is no medical care.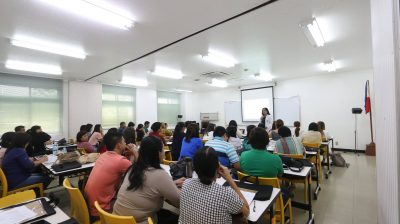 Scientific collaboration with Western countries is much more common than that with developing countries to learn through the observation of patient care. Many people think that similar institutions in developing countries are underdeveloped, but it is worth paying attention to these countries as well. Indeed, it is obvious that the infrastructure is less supported, but RITM meets the requirements of modern institutions of developed countries in all other aspects. One of the official languages of the Philippines is English, and as there was a time where the Philippines was an American colony, their education system is similar to that of  Americans. We did not only develop in regards to tropical diseases during our stay; they could show us so much more in other fields, too – Dr. Sárdy emphasized.
Members of the already returned Hungarian medical team gained insight into the scientific and educational activities of RITM and had the opportunity to study the diagnosis and treatment of tropical dermatology diseases. With support from Ambassador Dr. Joseph Bencze, they visited a Mission House where catholic nuns and nurses help children in need. One of the founders of the house, Edit Fabian, is of Hungarian descent. The group members also participated in a medical mission in the mountains, where they visited a settlement (Banaue) that has no dermatologist and, had the opportunity to examine patients with skin tuberculosis and leprosy together with colleagues of RITM. Among others, RITM is taking care of the medical treatment of people with Hansen's Disease, or in layman's terms, leprosy, in the Philippines.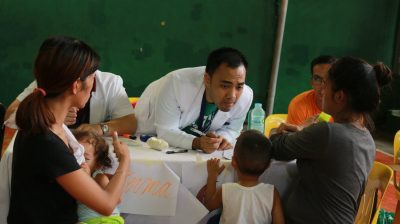 These missions are needed because otherwise there would be no medical care for inhabitants of certain areas – Miklós Sárdy pointed out. Not only dermatologists, but other specialists are also in short supply. There are regions where a single institution is forced to treat everything – from birth to heart attack. There is  huge economic inequality: a part of the population has very little money and there is no insurance system, so they either pay for healthcare services out of pocket or they get nothing at all. Symptoms with people living among such circumstances are much worse than those of people living in cities with well-maintained and treated skin diseases. The sight of neglected cases of leprosy is shocking even for experienced specialist doctors – Miklós Sárdy said. Although people in Europe think that leprosy is a terrible disease of the past, in reality there are millions of people suffering from this disease today in Asia, Africa and South-America. Every day, an average of 700-800 people is diagnosed with leprosy around the world; that is, every second minute a new patient is identified.[1] As the term leprosy is strongly stigmatizing, it is today rather referred to as Hansen's Disease. The pathogen that gives the disease its name, Mycobacterium leprae, is a bacterium related to the pathogen of tuberculosis that had been isolated first by Norwegian doctor A. Hansen in 1873.
Leprosy is – contrary to popular belief – not very infectious and can be completely cured today. However, we do not have to worry about its occurrence in our country. There is no leprosy in Europe today, excluding a few imported cases. In Hungary, dermatologists are encountering patients mainly with cutan larva migrans, tungiasis, leishmaniasis, rarely elephantiasis, filariasis. Mycetoma and several other fungal diseases can also be seen, the clinical appearance of which is often the same as the frequent fungal infections in Europe.
The number of cases detected in Hungary is too low to gain practice in this field, but it is too high to allow ourselves not to prepare dermatologists for their treatment – Professor Sárdy emphasized.
However, tourism and migration does not only bring new diseases to our region. As there is a significant migration from Europe and North-America to the Philippines, local dermatologists are facing special skin diseases of Caucasian skin-types along with a wide range of tropical diseases. That is why this collaboration is extremely useful for colleagues from the Philippines too, as they do not receive adequate training in European derma cases and have no opportunity to gain experience with the diagnosis and therapy of them in their country. This is why the primary goal of medical groups arriving from Manila is to study Caucasian skin diseases, focusing mainly on the diagnosis and treatment of malignant skin tumors.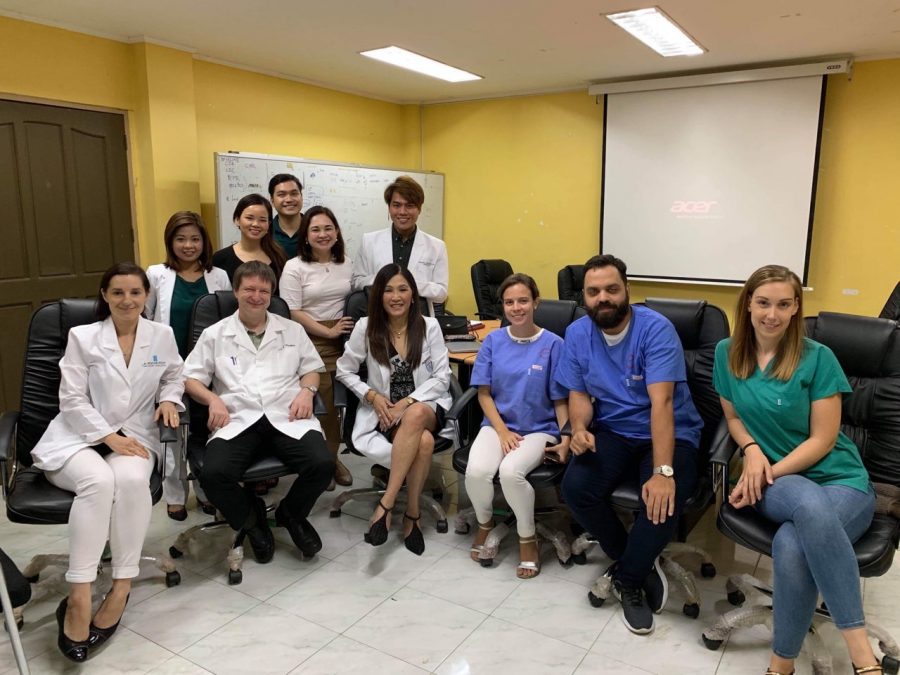 The one-and-half-year project was implemented through Erasmus+ Credit Mobility Program of the Tempus Public Foundation. During the program, a total number of 14 dermatologist doctors and residents will travel to Manila, and Semmelweis University will welcome 12 doctors from the Philippines between January 2019 and May 2020. The trips take place in several alternating cycles. Currently, the second Hungarian group is in Manila and the first group from the Philippines is in Budapest. The members of the latter group gave lectures at the Skin Academy organised by the Dermatology Department between April 4-6th in Budapest. The Department also applied for and won the International Society of Dermatology's tender for conference support, which has contributed USD 5000 to the invitation of international lecturers. This made it possible for international lecturers coming from different countries like Brazil, Nigeria, India and, of course, the Philippines to talk about tropical dermatology on the so-called Tropical Day of the Skin Academy. The event, which also included case studies, was primarily intended for dermatologists.
It is very important that we make good use of the experiences and contacts acquired during the study tour and that they do not remain limited within the walls of the University. With my colleagues, we will do our best to spread the information about tropical dermatology diseases in Hungary as widely as possible. We are very thankful for the managers and colleagues of the Research Institute of Tropical Medicine for this fantastic opportunity as well as for the team of the International Mobility Office of our University. It wouldn't be possible to acquire this knowledge within our borders. – Dr. Miklós Sárdy emphasized.
Collaboration with the research institute in the Philippines fosters an exchange of experience and knowledge transfer which can form the basis of Hungarian curriculum-development and the treatment of tropical dermatology diseases. Time spent at RITM offers a great opportunity for Hungarian lecturers and resident doctors to gain experience in this very special field of tropical medicine.
Zita Dékán – Semmelweis University, Directorate of International Relations
Translation: Zita Dékán, Faye Gillespie
Photo credit: Research Institute of Tropical Medicine, Semmelweis University Department of Dermatology, Venerology and Dermatooncology
[1] Data of Leprosy Mission, Hungary