A beautiful Asian engraving – the gift of a visiting South Korean delegation – and portraits of famous Hungarian doctors, including Ignác Semmelweis, adorn the office of Júlia Ferkis, newly appointed director of International Relations at Semmelweis University.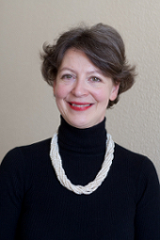 Ms. Ferkis returns to Hungary after 25 years in Oslo, Norway, where she spent most of her career in the international relations field. She was made head of the Russian Institute of the University of Oslo's Faculty of Medicine in 1996. This office became the Representative Office of the University of Oslo in 2010 and she continues to hold this position to this day. Coordinating research collaborations between Norway and Russia, it was here that Júlia Ferkis received her first glimpse into the medical education field, including research collaborations and student exchange. Deciding that it was not enough to have a working knowledge of the health care sector, she embarked on a health services manager training programme in 2004. From 2007 to 2008, Ms. Ferkis was deputy head of the Research Department and head of the International Department at Sunnaas Hospital, Norway's largest rehabilitation hospital. Most recently, she served as head of International Section of the University of Oslo's Faculty of Medicine from April 2009 until March 2012.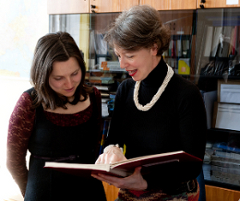 Despite having lived abroad for two and a half decades, Júlia Ferkis never lost her ties to Hungary. "I didn't move abroad because I yearned to leave the country, but because that is where life took me. I've always longed for home; it was very important for me that my children speak perfect Hungarian and we came back to visit as often as we could, spending every summer here," Ms. Ferkis said, adding that she had left her home country for the reason perhaps most people do: for love. She met her future husband, a Norwegian journalist, during her university years, when she was working as an English and Russian interpreter. Although her children were born in Norway, it appears that their ties to Hungary are also exceptionally tight, as both of them currently reside in Hungary.
Ms. Ferkis had other reasons for choosing to return home. "It is said that when the country is in trouble, the good Hungarians should be at home to help; my parents are also getting older, and as an only child, I would like to be nearby to assist them," she said, providing some personal insight into her decision.
In dealing with international relations, Júlia Ferkis considers it essential to keep in mind that both sides inevitably hope to benefit from collaborations. "Therefore, it is important to be deliberate when making new agreements, to know what it is that one hopes to gain from partnership with other nations. At the same time, one must not forget that only those partnerships can be successful in the long-term, where both sides have an equal footing, taking part in the cooperation with equal opportunity," she said.
Pálma Dobozi
Translated by Gina Gönczi