Sections of the Department of Radiology
X-ray/fluoroscopy Section
X-ray/fluoroscopy and Ultrasound Section at 1st Department of Internal Medicine
Section of Mammography
MR Section
CT (computed tomography) Section
Section of Interventional Radiology
Ultrasound Section
Section of Emergency Radiology
Semmelweis Egészségügyi KFT. (Semmelweis Health Care Ltd.) will work with you to find the most convenient appointment available for your examination.
You can schedule your appointment with an associate by calling the respective Scheduling Desk on (+36-1) 327 0452 or on the webpage http://www.semmelweiskft.hu/index.php?_language=en.
X-ray/fluoroscopy Section
Chair: János Gyebnár, MD
(+36-1-459-1500/53111)
Our Section serves in- and outpatients of the outer clinical block (except patients of 1st Department of Internal Medicine) by offering x-ray, fluoroscopy, radiologist guided or assisted contrast examinations, OB/GYN exams, GI studies, and much more. Additional diagnostic imaging highlights include:
Chest x-rays, including health screening of university personnel
Imaging and fluoroscopy guided interventions (prothesis implantations) of     special oesophagus disorders (for patient from the nationwide outpatient service at    the 1st Department of Surgery)
Imaging of postoperative complications
Teleradiology
We use digital imaging in order to have the best quality images, to decrease the patients' radiation dose, to do quick examinations and reducing patient waiting time.
X-ray/fluoroscopy and ultrasound Section at  1st Department of Internal Medicine
Chair: Gabriella Győri, MD
(+36-1-459-1500/51535)
Our Section provides conventional radiographic and ultrasound imaging, and ultrasound guided biopsy (FNAB). Conventional radiographs are performed on an analog basis (x-ray film), but fluoroscopy equipment provides digital imaging. Our ultrasound machine (Toshiba Aplio) belongs to one of the latest state-of-the-art imaging equipments, suitable for abdominal, soft tissue (breast, thyroid gland, etc.) and vascular imaging. Our Section supplies the comprehensive imaging studies for the patients of numerous out-patient services of the 1st Department of Internal Medicine (angiology, diabetology, endocrinology, gastroenterology, haematology, hypertension, cardiology, nephrology) besides the imaging studies of in-patients.
Section of Mammography
Chair: Mónika Tóth, MD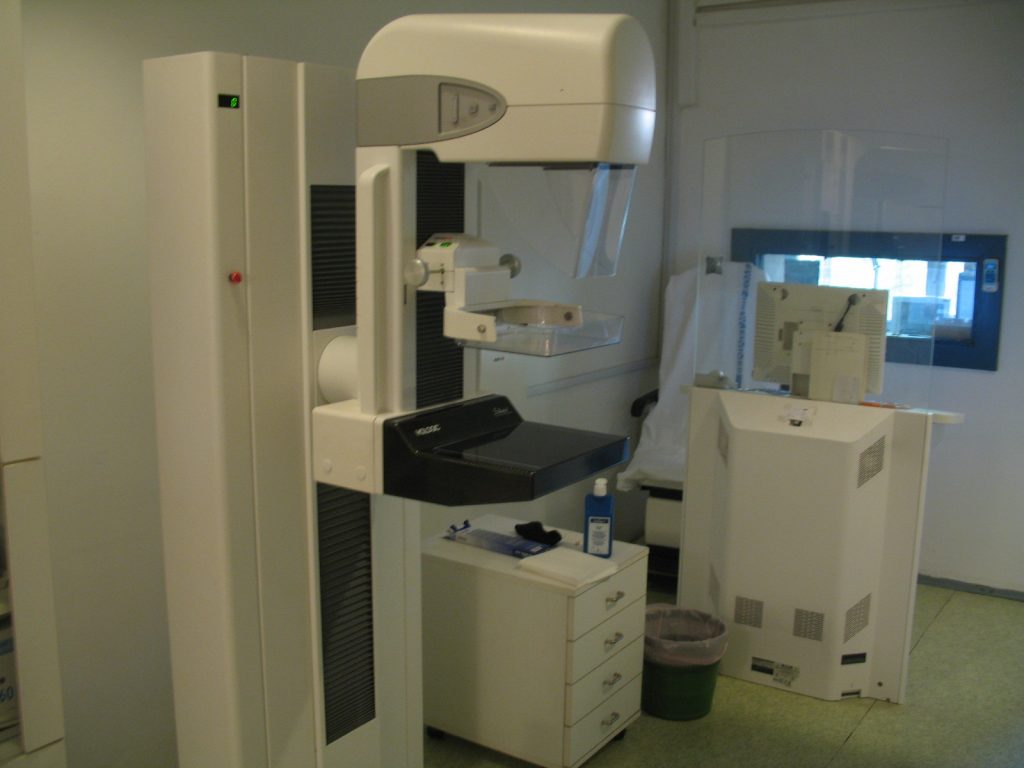 The breast imaging section is responsible for all breast imaging examinations and procedures in our institution since 1967. Our Section joined the national breast screening program between 1998 and 2005, providing screening of 45-65 year old ladies residing in the 8th, 9th, 10th and 16th districts of Budapest. We provide comprehensive breast imaging.
We undertake:
Mammography
Ultrasound examination of the breast
Mammography and ultrasound guided biopsy (core biopsy) and localisation of  breast lesions
MR Section
Chair: Ildikó Kalina, MD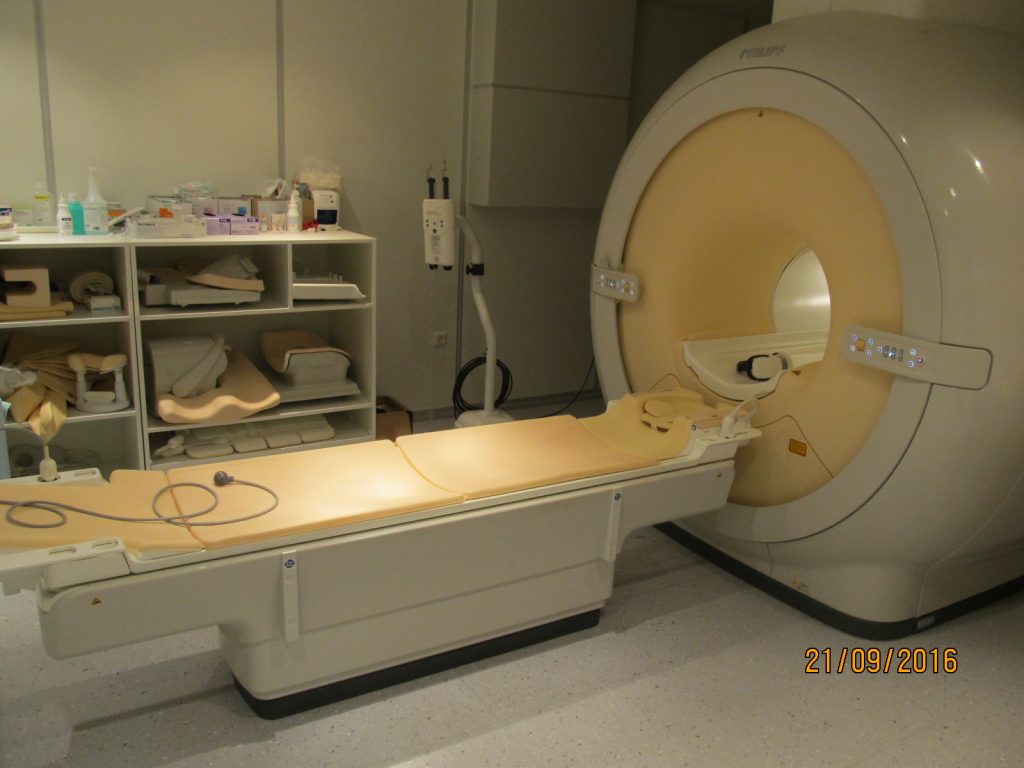 Magnetic Resonance Imaging (MRI) Patient Information Guide
WHAT IS MAGNETIC RESONANCE IMAGING? Magnetic Resonance Imaging, or MRI, is an advanced, state-of-the-art technology which produces very clear images of the human body without the use of x-rays. The MRI unit uses radio waves and a magnetic field to provide detailed images of particular parts of the body. MRI produces cross-sectional views of the body-patterned much like slices of bread. By collecting a series of such images, MRI can create a multi-dimensional view of your body which greatly enhances your doctor's ability to accurately diagnose medical conditions. After several such image "slices" have been collected, the information passes on to a computer. The computer then combines various segments of the pictures and creates views of the body from virtually any angle. MRI can be used to diagnose a wide variety of medical conditions which affect soft tissue structures and organs in the body. 
WHAT WILL I NEED TO REMEMBER BEFORE THE EXAM? If you wear clothing containing metal, for example zippers, snaps, underwire bras, or bra hooks, you may be asked to undress. Remove jewelry, dentures, bobby pins, makeup, credit cards, coins, mobile phone, watch, or any other metallic objects that might interfere with the magnetic field of the MRI machine.
WHAT TO EXPECT DURING AN MR SCAN? An MRI exam is completely painless. You won't feel a thing while you are in the magnet so you can simply relax and think about something pleasant. The technologist will ask you to lie down on a padded table so that you can be properly positioned for the exam. You will be moved into the magnet which is shaped like a donut. The technologist will leave the room but you will be in constant contact with him/her through an intercom system. When the scanning begins you will hear intermittent thumping sounds. It is very important that you remain relaxed and do not move during the entire exam. Any movement during this time my blure your images and make it more difficult to interpret the images. The average MR scan takes 20 to 45 minutes to complete. During this time several dozen images may be obtained. All of these images assist us in making the most accurate diagnosis.
Declaration_for_magnetic_resonance_(MRI) exaination
CT (computed tomography) Section
Chair: Bence Fejér, MD
(+36-1-459-1500/53111)
Our modern Philips Brilliance 16 CT equipment provides rutine and numerous special imaging studies. CT scans show detailed images of any part of the body, including the bones, fat, muscles, internal organs, and blood vessels. CT scans may be performed, for example, to help diagnose tumors in early stage, check for internal injuries, or investigate internal bleeding or intracranial stroke. 3D reconstructions contribute to the accurate diagnosis.
Our Section offers conventional skull, neuro, chest, abdominal, pelvic imaging and special CT studies as well. We provide imaging for patients of the sorrounding university clinics by numerous special studies, e.g. in the fields of surgery, internal medicine, otorhinolaryngology, oral and maxillofacial surgery, urology, musculosceletal diagnostics and chest.
Additional imaging highlights include:
CT-angiography
CT-enteroclysis
Virtual colonoscopy
CT volumetry (to provide accurate preoperative characterisation  of liver cancers)
Low-dose CT for checking kidney stones
High-resolution CT of chest, middle and inner ear
Radiologist guided or assisted interventions
Biopsy
Radiofrequency ablations of osteoid osteomas (with the Department of
Orthopedics)
Radiofrequency ablations of liver tumors/metastases
Abscess drainage
Section of interventional radiology
Chair: Zoltán Bánsághi, MD
(+36-1-210-0307)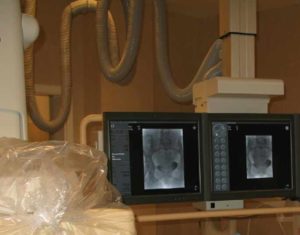 Interventional radiology section is involved both in the diagnostic (invasive, catheter diagnostics) work and interventional (therapeutic) treatment. The angiographic operating theatre, located at the 1st Department of Surgery, is equipped with a Philips Allura flat panel equipment. Our specialists use this latest medical equipment to optimize care provided to our patients. Our Section offers angiography with the possibility of extension to treatment in one procedure (e.g. angioplasty of arterial stenoses with balloon or stent). Interventions are performed in local anesthesia (i.e. no general anesthesia is necessary) which means that the procedure needs only a 1,5-2 mm puncture, and only 1 or 2 nights must be spent in the clinic postoperatively. Therapeutic efficacy is similar to that of large operations (abdominal, chest, vessel prothesis operations). Interventional procedure is preceded by a consultation where representatives of various professions (vascular surgeon, internalist, angiologist, oncologist, interventional radiologist) decide on the appropriate therapy of the patient based on clinical data and imaging findings.
Interventional imaging and therapeutic highlights include:
 – interventional procedures of various peripheral vessel stenoses, occlusions
    (e.g. arteries of the lower limb, renal arteries, subclavian artery)
 – embolisation, chemoembolisation of primary or metastatic liver tumors
 – embolisation of renal cancers (preoperative or non-operable
   tumor embolisation)
 – uterine fibroid embolisation
 – ultrasound-guided puncture, drainage, alcoholic sclerotisation
   of symptomatic liver cysts
 – angioplasty of dialysis fistula stenoses
 – implantation of venous ports (central venous cannulation)
   in oncologiy patients
Ultrasound Section
Chair: Gabriella Győri, MD
(+36-1-459-1500/53159)
Our ultrasound lab covers all vascular and non-vascular ultrasounds; studies at the bedside for ICU patients are also available. Our machines (Philips HD11, Esaote Mylab70, Acuson Seqoia) provide high resolution grey scale imaging of the  abdomen, soft tissues (neck, thyroid, breast, testis), viscera, pelvis, and vascular/Doppler studies (neck vessels, extremity arteries, veins, abdominal aorta, renal arteries) and have 3D volume rendering capability.
Additional, special imaging highlights include:
  – transrectal ultrasound
  – ultrasound guided biopsy (fine needle and core biopsy) of soft tissues (breast,
     axillary, neck, inguinal lymph nodes), abdominal organs (e.g. liver, pancreas,
     kidney, abdominal lymph nodes)
  – ultrasound guided puncture and drainage of abdominal fluid collections,
     abscesses