Teddy Bears, giant teeth and toothbrushes, fresh fruits and interactive toys received the 125 excited kindergartens who attended the Teddy Bear Hospital program today at the Theoretical Medical Center. After the surgical mouth mask was taken, the children took great pleasure in the tasks of the various stations. For them, this is the best recipe to overcome their fears of the white cloak and the hospital environment.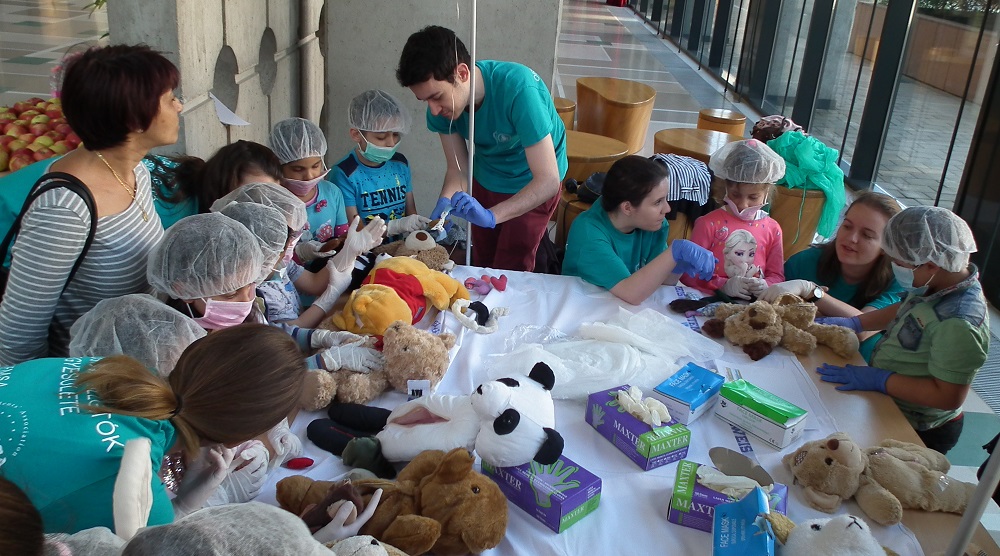 The initiative is another great program of the Budapest Medical Students Association (BOE), organized by Viktória Sági, Head of Child Health Education at BOE and two assistants, Novotny Zita and Yvette Sepp. The program was also joined by the HuPSA (Hungarian Association of Pharmacists' Students) and the students of the Department of Dentistry.
The children visiting the EOK pulled all their grip on the rubber gloves and the mouth mask, and then entering the surgery station in seconds, they became physicians as a substitute. The toy cats wondered with curiosity with some organs and their functioning. They took the injection more and more and gave the nose to the teddy bear. The dentist's department was impressed with a huge denture, where they were happy to catch the toothbrush that was almost as large as their forearm. In the meantime, they learned the proper operation of brushing. After that, they entered the pharmacy station, confidently, where they could get acquainted with the medication and the use of ointments.
Viktória Sági was also impressed by the children's awareness, interest, and smart questions. As he said, it is important to raise the attention of kindergarteners to the importance of healthy eating, sport and healthy lifestyles in this context, because it is worthwhile, and even important to start, prevention at this age.
After the end of the stations, when the banana and apple were snooping, the children talked about how to go to the kindergarten, which plushes would need to be operative, who could supply the sealer and who would run the surgery.
Text: Tarnóczy-Tóth Katalin
Photo: Bata Martin