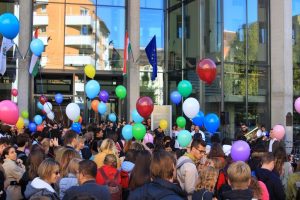 A dream of 60 years had become reality in 2008 when the associates and students of the university moved from the old Puskin Block into the Basic Medical Science Center, a modern building that have gratified every demand professionally. The growth and value of the intellectual workshop and community of the past ten years have been secured by the walls of the building ever since, knowledge transfer – and the internalization of the desire to know – most days still goes from early morning to late at night in the building of BMSC. We are celebrating the 10th anniversary of the existence of this constitutive media by a jubilee program series that over-arches the school year. Last Friday we have prepared a birthday surprise along the annual compulsory fire drill for  our associates, tutors and students. During the fire drill the crowd have flooded into a cloud of balloons and street music provided by the formation of Kelet Brass Band.
The initial bewilderment and surprise of the multitude have turned into an admirable opportunity to celebrate which was opened by Judit Hegedűs director of BMSC and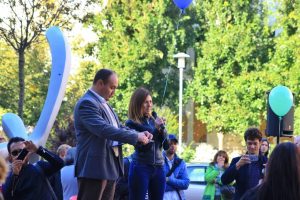 András Váczi project manager. It was an elevating experience to see the collective joy of sparkling university life. In our diversified program series we are aiming to maintain this ambiance. Remaining in the terms of healthy lifestyle we are working on to bring you sports, music, gaming and also more serious, scientific events to secure and inspiring, good vibe.
By the way, during last week's Board Game Night we have issued the first number of EOK Passports. We encourage you to acquire your own passport that goes along with the program series and secure the opportunity to collect stamps along the way. The more pages you turn colorful in your passport, the higher your chances are to win the Grand Prize of the year!
Information on our programs will be available continually on our website, Facebook and Instagram pages.
English translation: Aimie Fekete
Original text: Katalin Tarnóczy-Tóth
Video: Katalin Incze; Ádám D'Albini; András Váczi
Photo: Áron Tókos