Address
H-1085 Budapest, Mária u. 52.
Tel.: (+36-1)-266-0456
Fax: (+36-1)-266-0456
Email: titkarsag.arcallcsont@dent.semmelweis-univ.hu
Director
Dr. Zsolt Németh PhD., M.D. habil., Associate Professor
Background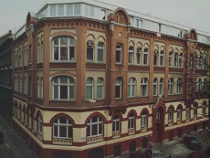 The Department is located in the building of the former Clinic of Stomatology, which was founded by József Árkövy in 1909. Over the past 50 years, this institution has become part of what is today called the Faculty of Dentistry of Semmelweis University, and most of the Faculty's departments have subsequently been relocated elsewhere.
Profile
The main activity of the Department is teaching dental and medical students and carrying out their practical training through the Department's dental patients. Dentoalveolar surgery, oral implantology and maxillofacial surgery as well as traumatology are some of the Department's more specialised activities.
Health Care
The Department provides 24-hour basic and specialist care for diseases requiring oral surgical or maxillofacial surgical treatment and handles the most serious cases from throughout Hungary.
The most important areas of the operative activities are:
Tumours;
Injuries and developmental anomalies in the maxillofacial region;
Diseases of the salivary glands;
Facial pain;
The entire scope of dentoalveolar surgery;
Dental implantology;
Preprosthetic surgery;
Reconstructive surgery;
Microsurgical methods;
Various methods for the application of biomaterials.
Education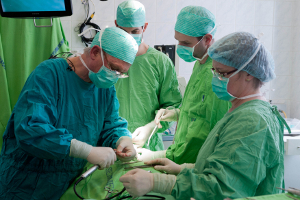 The Department's staff hold lectures in Hungarian, English and German for students of the Faculty of Medicine and the Faculty of Dentistry, on topics including dental surgery, oral implantology and maxillofacial surgery. Postgraduate training courses are also provided. The Department is home to the speciality examination boards for dentoalveolar and maxillofacial surgery that coordinate specialist training and examinations.
Research
Etiology and epidemiology of oral tumours;
Application of biomaterials and implants;
Nanotechnology in oral surgery;
Studies of prognostic and predictive factors of malignant oral tumours;
Research in the field of the virus etiology and genetic background of oral tumours;
3D-CT-based planning for the surgery of complex developmental anomalies and posttraumatic deformities;
Research in the field of the pathogenesis, epidemiology and novel treatment options of bisphosphonate-related osteonecrosis of the jaws;
Developing novel surgical methods to revitalise the face in palsy patients;
Deveoping new preprosthetic and bone grafting techniques;
Developing 3D implant navigations technology;
Research in the field of implant surface modification.