In October 2019, Semmelweis Health Promotion Center launched its volunteer recruitment program, mostly focusing on students from the Faculties of Medicine (ÁOK), Health Sciences (ETK), Pharmaceutical Sciences (GYTK), and Dentistry (FOK). The recruitment process spanned three weeks piquing the interest of more than 130 applicants. We intended to provide the students with an opportunity to put their theoretical knowledge into practice, thus all applicants had to participate in an initial training conducted by experts of Semmelweis Health Promotion Center. Approximately 50 applicants joined the Centre as volunteers in October, followed by 40 more students the next month.
The main purpose of the training was the involvement of students; establishing a first link, through which the students could experience the range of activities they can participate in at the Health Promotion Centre. During this period, we focused on students' participation in various trainings and events, the cooperation between faculties, gaining professional experience, networking, educational activities, and further research opportunities. We are planning to expand the program and provide thematic training opportunities for students who would like to join the Center as volunteers.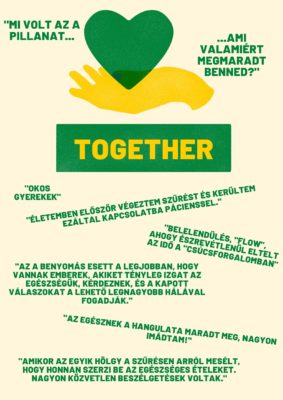 Our volunteers have had the chance to apply their knowledge on health promotion days and at public health screenings; they continue to be invited and are free to participate in various events of the University and the Health Promotion Centre. Beyond the initial training, we are also planning to launch more specialized programs to facilitate the practical application of students' theoretical knowledge.