Department of Family Medicine
Address
1085 Budapest, Stáhly u. 7-9. GROUND 5 (V. emelet.)
Tel.: (+36-1) 355-8530; (+36-1) 214-0841
Fax: (+36-1) 355-8530; (+36-1) 214-0841
Email: titkarsag.csot@med.semmelweis-univ.hu
Head of the Department
Professor Péter Torzsa, M.D., Ph.D.
torzsa.peter@med.semmelweis-univ.hu
Faculty
László Kalabay, MD, professor
Ajándék, Eőry, M.D., assistant professor
Péter Vajer, M.D., assistant professor
Krisztián Vörös, M.D., assistant professor, Deputy Head
voros.krisztian@med.semmelweis-univ.hu
Csenge Hargittay, M.D., assistant lecturer
Bernadett Márkus, M.D., assistant lecturer
Ferenc Tamás, M.D., assistant lecturer
Ágnes Szélvári, M.D., assistant lecturer
Ádám Becze, M.D., English Program tutor
becze.adam@med.semmelweis-univ.hu
GP-tutors
Ágnes Ádám, M.D.
Gábor Antalics, M.D.
Vilmos Dani, M.D.
Péter Kotányi M.D.
Ilona Oláh, M.D.
András Sirák, M.D.
János Szabó, M.D.
Background
The Department of Family Medicine was founded in 1992.
Profile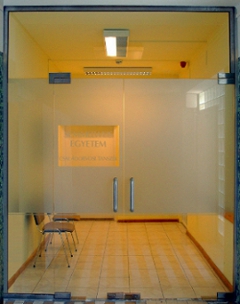 The Department has been teaching family practice to medical students through lectures, seminars and 2-week rotations since 1984, even before its establishment as a university department. Vocational training and continous medical education (CME) were later added to the Department's teaching profile.
Education The Introduction to Clinical Practice subject has been taught to first-year Hungarian medical students since the 2008/2009 academic year. The aim of this subject is to establish doctor-patient relationships and the clinical propedeutics, and to familiarise students with the medical mentality in patient-oriented health care. There are 48 teaching practices across Budapest, where experienced GPs introduce students to their daily activities as well as teaching medical consultation, treatment, and the importance of disease prevention. The course is practice-oriented and, through a one-on-one relationship, demonstrates the day-to-day situations of a family doctor. 11 GP-mentors and 297 GP-tutors from both the capital city and the countryside support the Department's teaching activities.
The Department offers the following courses within the University's English Language Programme: Medical Profession (first year); Introduction to Clinical Medicine (second year); Family Medicine Seminars (fifth year) Rotation Programme (sixth year).
We teach the specialities of the GP's work within the framework of an optional compulsory subject in small groups in the sixth year. Facilities are provided for scientific work, research in the Scientific Students' Association, writing theses and preparing rector papers. On average, five rector papers and ten theses are prepared each year.
Thesis topics that students can research at our Department are as follows: the problems of primary care; general health care; diagnostic methods; patient follow-ups; complementary and alternative medicine.
We have been organizing a 26-month-long residency program since 1992 as the vocational training period of the GP-specialisation. The dedicated training program is built up from a strict structure and is continuously monitored. It is based on medical work done by the GP-mentor in his or her practise and under his or her supervision. It is supplemented by professional programs providing theoretical and practical knowledge necessary for the safety of independent GP-activities. The residential program ends with a license exam. The qualifying exam can be taken after 10 months' experience and preparation within a general practice.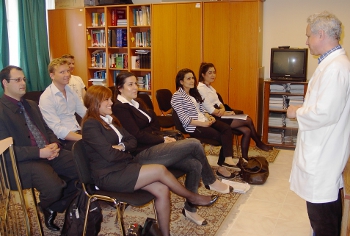 The Department organizes continuous, thematic postgraduate courses for GPs in Budapest and the agglomeration of the University, which entails the preparation of about 2,500 GPs for the qualifying exam.
Research Scientific research at the Department is focused on the teaching process of family practice and the education of the teaching staff. Further fields include the management of everyday health care, quality assurance, the treatment of patients suffering from chronic non-contagious diseases, primary and secondary prevention activities, complementary and alternative medicine, as well as introducing new examination methods.
Topics offers for Students' Scientific Association include:
Immunological disorders in family practice;
New possibilities and methods in management of hypertension. Optimal and cost-effective treatment of hypertension. Feasibility and acceptability of home/self blood pressure monitoring;
Patient management – practice analysis in primary care;
Execution and efficiency of primary and secondary prevention in family practice;
Special activities of the GP during home care;
Problem-oriented approaches of anxiety and depression in family practice;
Complex care of elderly patients in family practice;
Updating treatment of non-contagious diseases;
Diabetes mellitus in family practice. Optimal treatment of diabetes mellitus;
Sleeping disorders in the population. Depression and sleep apnea in family practice;
Eating habits and healthy nutrition. Obesity;
Rheumatology disorders in family practice;
Diagnostic and decision algorithms in the primary care;
Cardiovascular patients' risk status and the management of their prevention program;
Smoking habits, quitting. Smoking cessation-attitudes of family doctors;
The role of the increased level of serum uric acid in cardiovascular diseases;
The health status of Hungarian GPs;
Alzheimer's Disease and vascular dementia;
Care of malignant patients and their caregivers;
Complementary and Alternative Medicine (CAM);
Knowledge and attitudes of Hungarian GPs toward Complementary and Alternative Medicine (CAM);
The possible role of temperament in patients' choice toward CAM;
Releasing parental stress with ear acupuncture in parents whose children have cancer;
Association between hypertension and affective temperaments in the primary care setting.