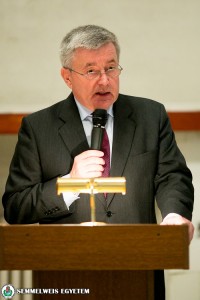 The Moynihan Chirurgical Club, founded in 1909, holds two annual meetings; one in the UK and another abroad. This year one of the scientific meetings was organised at Semmelweis University's First Department of Surgery. The two-day event was opened by Dr. László Harsányi director, who emphasized the importance of the club being the oldest and most renowned chirurgical society in the UK. Amongst others, the chief editor of the British Journal of Surgery, the vice president of the Royal College of Surgeons of England and the president of the British Society for the History of Medicine attended the conference.
Dr. László Hunyady, Dean of the Faculty of Medicine welcomed the participants on behalf of Semmelweis University and said that the conference would serve as a great basis to strengthen cooperation and partnership between surgeons in line with the priorities o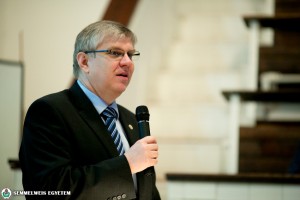 f the British club.
He briefly introduced the university highlighting its importance in biomedical education in Hungary by being the largest institution dealing with medicine and healthcare sciences. He also mentioned the forerunner of the First Department of Surgery, which was founded in 1769, the same year Semmelweis University was established. Apart from its impressive historical background, the Department has also earned its reputation through excellence in clinical surgery, education and research.
The scientific programme included numerous presentations by Hungarian researchers on both days. The highlights of the first day were the situation of colorectal laparoscopic surgery in Hungary, breakthroughs in pancreatic surgery, state-of-the-art technologies in liver surgery, aorta aneurysma and translational research. The second day offered insight into the work of young researchers. The award for the best presentation was handed over to Dr. Olivér Rosero for his lecture on the development of bacterial translocation mechanism in the intestine damaged by ischemia.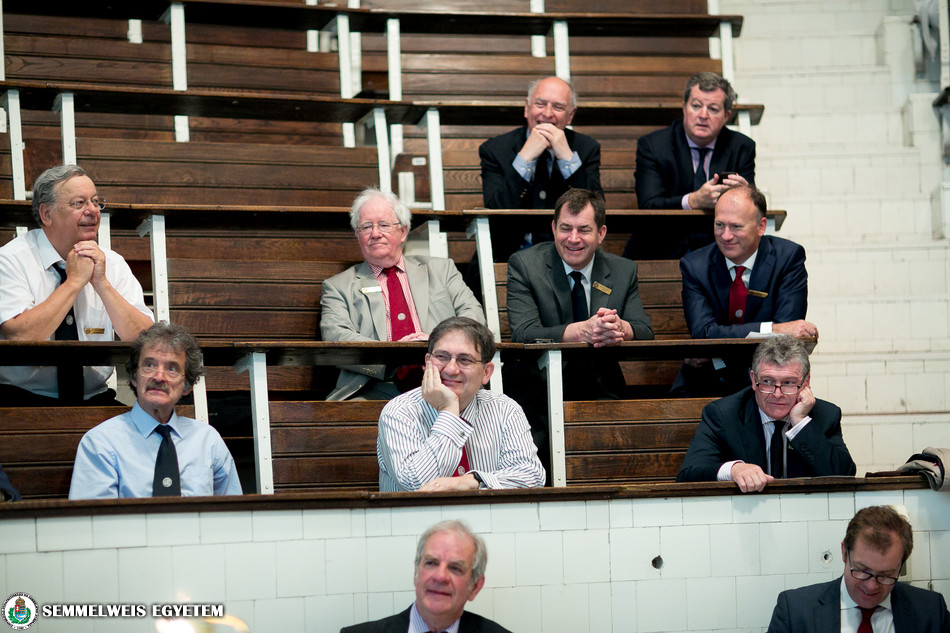 The British club was named after Berkeley George Andrew Moynihan, known as Sir Berkeley Moynihan 1st Baronet, born in 1865 in Malta. He was a general surgeon with several noteworthy research activities. He discovered duodelan ulcer, wrote a book on abdominal surgery, performed the first successful transfusion in 1906 and introduced the use of rubber gloves in ORs. His devotion to development, innovation and the creation of interdisciplinary cooperative partnerships across borders make him a model to follow.
Pálma Dobozi
Photo: Attila Kovács, Semmelweis University
Translated by: Ágnes Raubinek