---
Purpose
---
Semmelweis University FACS Core Facility serves all researchers at the university to aid them in their downstream applications. We offer access to state-of-the art flow cytometer and cell sorting services. Flow cytometry is an important tool in research using various cell populations. We can detect, analyse and physically separate single cells individually in a fluid flow in a short period of time while generating statistically robust data. The FACS Core Facility operates with two machines at two sites, a CytoFLEX SRT located at EOK, Basic Medical Science Center and a Sony LE- SH800SFP sorter at NET.
---
Beckman Coulter CytoFLEX SRT
---
The CytoFLEX SRT cell sorter is equipped with 4 lasers (violet at 405, blue at 488, yellow at 561 and red at 638 nm) and 17 detectors to measure up to 15 fluorescent channels and two scatter parameters. It facilitates to design experiments with complex sort logic. The machine is capable to sort simultaneously 4 defined cell populations. The system supports 5 ml (12×75 mm) tubes or Eppendorf tubes as input. The following sorting devices are supported: 5 mL, 15 ml tubes, different plates up to 384-well and slides. Additionally, the machine is able to perform index sorting, which allows single cells sorts into plates or slides for single cell genomic or transcriptomic analyses. There is also an option to collect side scatter signal from Violet (405 nm) laser. The configured channel (VSSC) can be utilized to better resolve nanoparticles. Analyzation of the data can be done individually with the help of CytExpert SRT program on any computer.

---
Sony LE- SH800SFP
---
Fluorescence-based sorting is available on a new generation chip-based Sony sorter with 4 lasers (488 nm, 405 nm, 638 nm and 561 nm), two scatter and six fluorescence parameters. The sorter is able to work with a wide range of fluorochromes, fluorescent proteins and vitality or cell tracker stains thanks to its 4 lasers and versatile filter systems (max 6 channels). The machine can perform two-way sorting in flow cytometry tubes, or in 8 well strips, microscopic slides or 6-,12-, 24-, 48-, 96- and 384-well plates.
The theoretical and optical background of chip-based sorting is very different from conventional sorting, so please consult our staff before designing any panel. Thanks to the low sheet pressure, sensitive cell types can be sorted for further culturing.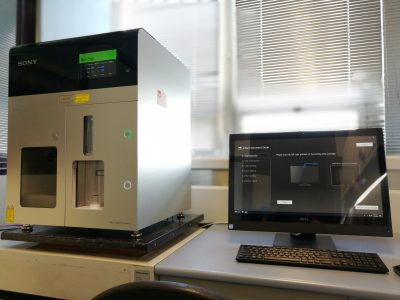 ---
Services
---
Complex flow cytometry analysis of cell populations even with 15 fluorescent channels.
Sorting of rare populations out of a heterogeneous sample. Cell enrichment, and high purity sorting.
Indexed sorting for single-cell analysis.
Longstanding expertise, help in experimental design and data analysis.
Quick, easy booking system, where sorting services are provided with assistance within 2 weeks after permitted applications.
Services are available to all internal and external academic customers (international customers please contact us for pricing). Semmelweis University users have priority access.
 

Beckman Coulter CytoFLEX SRT

Sony LE- SH800SFP

Machines 

Lasers and Channels

405 nm Violet laser:

450/45

525/40

610/20

660/10

780/60

488 nm Blue laser:         

525/40

690/50

561 nm Yellow laser:      

585/42

610/20

675/30

710/50

780/60

633 nm Red laser:         

660/10

712/25

780/60

3 lasers (488nm, 561nm, 638nm) in one beam:

FL1: 525/50

FL2: 585/30

FL3: 617/30

FL4: 665/30

FL5: 720/60

FL6: 785/60

4 lasers (405nm, 488nm, 561nm, 638nm) in one beam:

FL1: 450/50

FL2: 525/50

FL3: 600/60

FL4: 665/30

FL5: 720/60

FL6: 785/60

Alternative filters for fluorescent proteins

(please ask specifically)

Advantages

Use VSSC to sort micro-particles smaller than 500 nm.

Sorting of sensitive cell types on low pressure.

Location

0.116 laboratory room

D ground floor

HCEMM-SU Neurobiology and neurodegenerative diseases Research Group

EOK, Basic Medical Science Center

Institute of Translational Medicine

Semmelweis University

1094 Budapest, Tűzoltó street. 37–47.

 

NET 622/A room

6th floor

Department of Genetics, Cell- and Immunobiology

Semmelweis University

1089 Budapest, Nagyvárad square 4.

Contact person

Ágnes Varga, PhD

Phone: +36 1 459 1500 / 60369

Mobile: +36 30 016 4787

Tünde Bárkai

Phone: +36 1 210 2930 / 56269

Application form

Calendar
---
Charges
Services are available to all internal and external academic customers.
Semmelweis University users have priority access. 
---
Internal users: 20 000 Ft/h
External users: 30 000 Ft/h
First consultation and planning meeting is always free, further consultation, training and designs are charged 4000 Ft/hour.
All prices include taxes and university overheads.
To access our services, please fill in our application form, and contact us by email. 
Please check our calendars for available time slots before requesting a booking.
---
Contact
---
Ágnes  Varga, PhD
Phone: +36 1 459 1500 / 60369ű
Mobile: +36 30 016 4787
E-mail: varga.agnes1@semmelweis.hu
0.116 laboratory room
D part, ground floor
Basic Medical Science Center
Institute of Translational Medicine
Semmelweis University
1094 Budapest, Tűzoltó street. 37–47
This project is supported by: TKP-NVA