DEAR COLLEAGUES AND GUESTS,
DUE TO THE COVID-19 PANDEMIC WITH ALL THE TRAVEL RESTRICTIONS BEING PUT IN PLACE, WE HAVE TO POSTPONE OUR MEETING UNTIL THE SECOND HALF OF 2020 OR EARLY 2021. WE REGRET ANY INCONVENIENCE THAT MAY RESULT FROM THIS BUT IT IS NOW CLEAR THAT FOR SEVERAL PEOPLE IT WOULD BE IMPOSSIBLE TO TRAVEL TO BUDAPEST. ONCE THE SITUATION IS MORE RELAXED AND THE END OF THE RESTRICTIONS ARE PREDICTABLE, WE WILL INFORM YOU ABOUT THE NEW DATE HOPING THAT YOU WILL STILL BE ABLE TO PARTICIPATE.
ORGANIZING COMMITTEE
5th International Meeting on Cancer and Blood Vessels

May 08-09, 2020

Semmelweis University, 1st Department of Pathology and Experimental Cancer Research 1085 Budapest, Üllői street 26, Hungary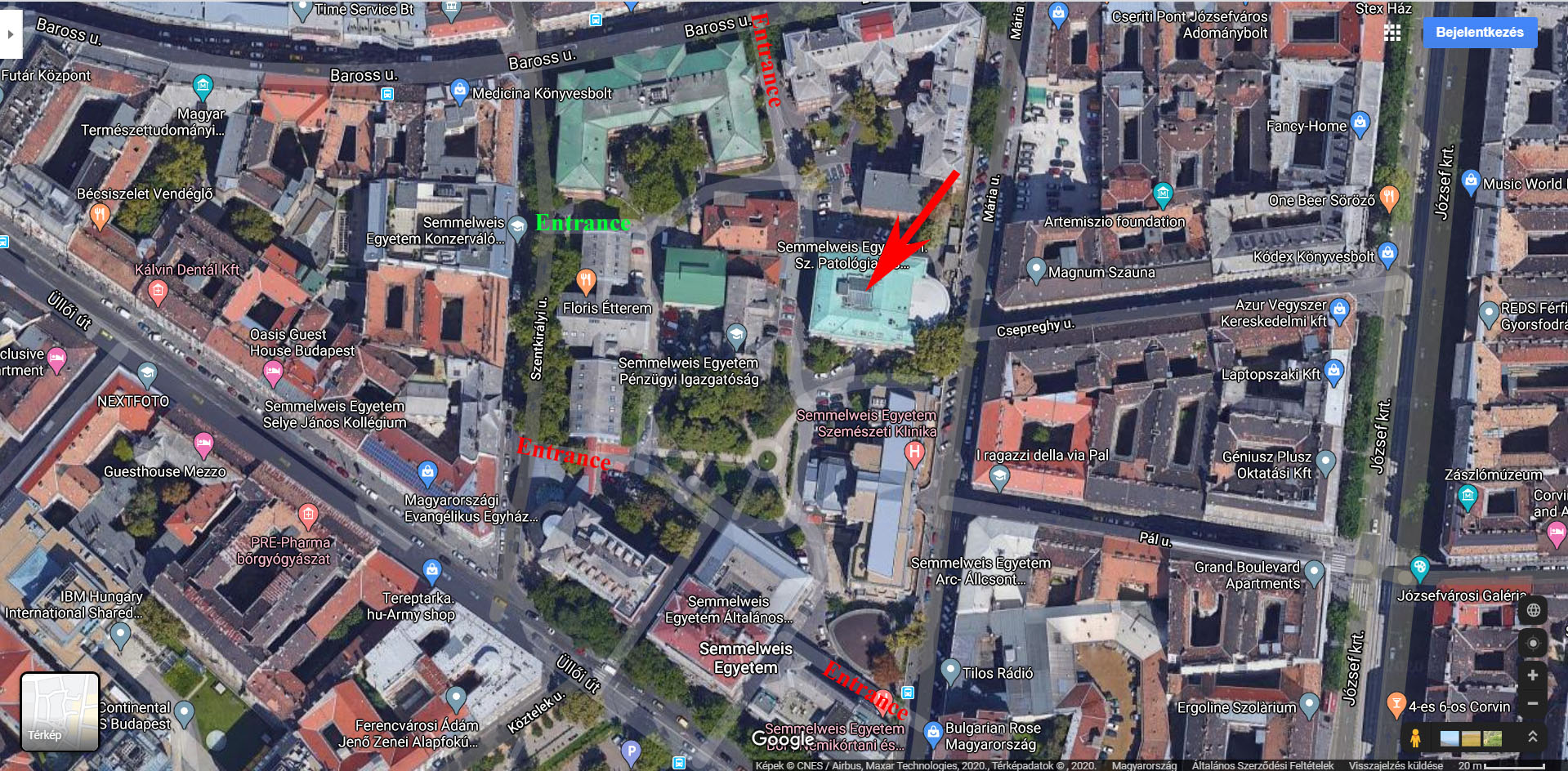 Registration:
Please register for participation at anglivlab@gmail.com by March 4,2020 and also indicate if you would like to give a presentation (please provide the title and length of the talk)
Transfer from the airport:
Public transport provides easy access to the city centre from Budapest Airport. The bus stop is located at the arrivals level between the two terminals.
Direct shuttle service 100E operates between the airport and Deák Ferenc tér in the city centre.
Passengers require a special ticket for bus line100E: the airport shuttlebus single tickets costs 900 HUF. Other types of tickets or passes are not accepted.
The first departure of the shuttle from Deák Ferenc tér is at 3:40 a.m. and it runs to the airport every 20 minutes thereafter, until 00:40 a.m. (Daytime frequency on Sundays is 10 minutes).
The first bus leaves the airport at 5:00 a.m., while the last departure is at 1:20 a.m.; the service frequency is 20 minutes.
Drop-off points on the way to the city centre:
– Kálvin tér M (metro station)
– Astoria M (metro station)
– Deák Ferenc tér M (metro station)
Boarding points to the airport in the city centre:
– Deák Ferenc tér M
– Astoria M (only in the early mornings between 3:40 and 04:40!)
– Kálvin tér M
Recommended accommodations:
Hotel Palazzo Zichy, https://hotel-palazzo-zichy.hu/
Mercure Budapest Korona Hotel, https://all.accor.com/hotel/1765/index.en.shtml
Scientific program:
Soon….
Organisers:
Katalin Dezső, MD, PhD
Semmelweis University
1st Department of Pathology and Experimental Cancer Research,
Liver regeneration and angiogenesis group
1085 Budapest, Üllői street 26, Hungary
E-mail: dezso.katalin@med.semmelweis-univ.hu
Mobile: +36 20 825 9701
Balazs Dome MD, PhD
Head, Translational Thoracic Oncology Program
Division of Thoracic Surgery
Medical University of Vienna
Allgemeines Krankenhaus der Stadt Wien
Waehringer Guertel 18-20
A-1090 Vienna, Austria
Tel (Office): +43-1-40400-73742
Tel (Lab):+43-1-40400-73529
E-mail: balazs.dome@meduniwien.ac.at
Francesco Pezzella, MD
Professor of tumor pathology
NDCLS John Radcliffe Hospital, 
University of Oxford, Oxford OX3 7LP, UK