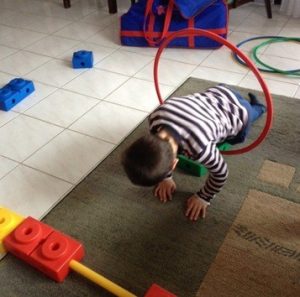 The mission of the Institute of Conductive Development of the András Pető Faculty Budapest, is to provide assistance to children and young adults with motor disabilities originating from damage to the central nervous system. At our Institute we offer intensive individual and group sessions to train clients how to overcome challenges of everyday life from simple actions to more complex activities: from lacing shoes through using cutlery to independent movement forms. The development programme adopts the special Pető method whose essence is teaching those in need to adapt and integrate to circumstances of daily living.
​Interval Conductive Education
Due to the development of our international relations and the growing number of international patients and student conductors creating an independent unit for international children seemed necessary. In 1991 the International Section, under its present name the International Conductive Education Unit was set up.
Since then the Unit has provided interval conductive education for cerebral palsied children coming from abroad and at the same time served as a practising base for our international students.
What is interval conductive education?
Intensive conductive education periods of some weeks repeated regularly. As a result of an active learning process, the pupils become able to apply independently, or, according to their current condition, more independently, what they have previously learned. Between two occupation periods at the Pető Institute they are expected to adopt at home without conductors' guidance what they have attained here.
The characteristics of interval conductive education
Short, generally 4-8-week periods are used for assessing and developing the child's condition.
Concrete goals are set and parents are informed at admission.
The achieved results are recorded in writing and documented with photos.
In order to maintain the results, professionals working with the child and the parents are informed of the tasks for home occupation.
This form of conductive education is favourable in so far as the child has to leave his/her home and school environment for relatively short time only.
Intensive occupation.
Rules of admission and occupation
During the child's first admission to the Institute one of the parents has to participate in the programme in order to get the necessary instruction in conductive education.
The initial admission starts with a two week trial period.
Should the child's participation in group sessions turn out to be unbeneficial during the two week trial period, he/she will be offered individual development instead.
Our groups operate in 3-week periods. The exact starting and closing dates are set in advance for the next school years.
The Institute has exclusive right to decide about group placement.
What to do on the day of admission?
Registration: On the first day parents are requested to report at the Admission Office.
Changes: You are requested to communicate any change in parents' names, address, telephone number etc. to the same Office.
Admission to the group: Following registration the child and the parents are requested to present themselves in the group.
Bill: According to our financial regulation bills must be settled on the first day of conductive education. Bills are to be collected at the Admission Office.
Settling the bill: Payment can be effected at our Institute's cash desk in Hungarian cash or by credit card. You can find an ATM machine in the entrance hall of our Institute.
What age groups do we work with?
Kindergarten age
An age appropriate, playful conductive education programme is provided for 3-7 year olds all over the year. Children whose parents have long term employment in Hungary, attend our Institute on a permanent basis. Their progress is promoted according to a development plan.
Children attending on a permanent basis may come twice or three times per week only.
Every four weeks new children arrive to have interval conductive education.
Separation from parents is carried out gradually, under a senior conductor's guidance.
Sessions are run in English or Russian
The group lays special emphasis on the promotion of grapho-motor skills.
School age
Conductive education is provided for 8-18 year olds all over the year.
Some members of the group are staying in Hungary permanently. Their progress is promoted according to a development plan.
For pupils attending on a permanent basis, guest teachers provide tuition and computers are made available in order to use distant learning materials.
Children arrive every four weeks to have interval conductive education.
Some families can only come during school holidays for their disabled child does not get leave of absence from school. In such cases the child may be admitted out of turn upon parents' previous request.
Sessions are run in English or Russian
Adults
In accordance with the needs, conductive education is provided during the school year for adults with hemiplegia, diplegia, tetraparesis, athetosis and ataxia.