On the World Patient Safety Day, a scientific symposium was held at the Department of Internal Medicine and Oncology. The event, focusing on medication errors, was organized in a hybrid format, with presentations available online and on-site.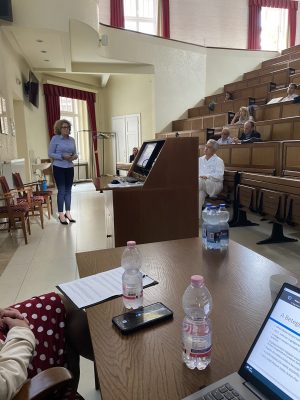 Participants were welcomed by Dr. István Takács, Director of the Department, and Dr. Magdolna Dank, Deputy Head of the Department. In the first presentation, Katalin Szegesdi (pharmacovigilance specialist, head of pharmacovigilance, MSD Pharma Hungary Kft.) presented the WHO campaign to reduce medication errors.
The second and fourth presentations were given by Dr. Máté Ádám Balázs (MD, Semmelweis University, Department of Oncology, Department of Internal Medicine and Oncology). In his first presentation, he gave a general overview of the types of medication errors, the most common causes – both from the patient's and the health care staff's point of view -, the consequences and possible ways of prevention. The second presentation gave instructive examples of medication errors in oncology practice and their causes. He emphasized the importance of continuous self-monitoring and data reconciliation, quality assurance, built-in control mechanisms and patient education in prevention. In addition, modern technology can greatly assist in avoiding such errors and potential harm to health (e.g. Computer Aided Therapy for Oncology – CATO, decision support electronic systems, prescribing systems).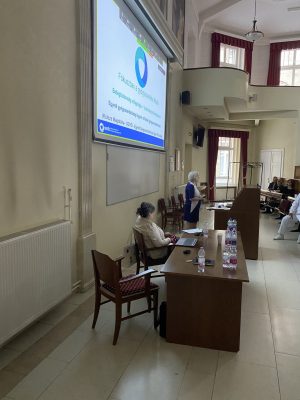 On behalf of the Authority, Dr. Magdolna Kolozs (National Institute of Pharmacy and Food Safety, Directorate General of Control, Department of Individual Medicines, Methodology and Individual Claims) gave a presentation on the licensing of off-label use of medicines and the most common errors in licence applications. The last presentation was given by Zsófia Szabó-Bagladi (Pharmacovigilance Specialist, Pharmacovigilance Manager, Amgen Ltd.) on pharmacovigilance tools to avoid medication errors. She showed that professionals can do a lot to prevent medication errors by using routine pharmacovigilance tools. For example, avoiding similar-sounding drug names, unique packaging that can be distinguished from other preparations, distinctive colours for different strengths (to prevent drug switching) or clear instructions on the use of the medicine (including the method of administration). "Additional risk mitigation measures can also be used, such as a dose calculator or compliance card for patients, or even the use of smart devices," she emphasized.
At the end of the scientific session, Dr. Magdolna Dank said she was pleased to see that the event had attracted a lot of attention. The event was also intended to create a tradition, as they would like to continue to raise awareness of patient safety and medicines safety issues that affect everyone, and to provide a continuous opportunity for healthcare professionals to learn about and increase their knowledge of the latest developments in this field.
Photo and text by Dr. Máté Ádám Balázs
Translated by Rita Kónya