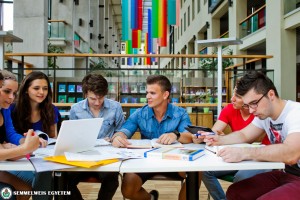 World-class education with 250 years of tradition
Semmelweis University is the oldest medical university in Hungary with 250 years of experience in the field of biomedical sciences and in training physicians, dentists and pharmacists. Today, students of this long-established university have the opportunity to acquire hands-on and up-to-date knowledge from the most distinguished professors in an inspiring environment equipped with state-of the-art technological solutions. Semmelweis University is built on the trinity of education, research and health care, making it an internationally renowned centre of excellence.  Read more →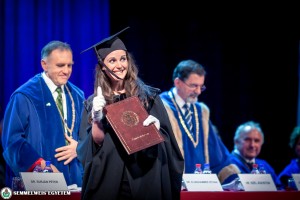 Widely recognised degrees and competitive knowledge
Semmelweis graduates are highly appreciated in the job market worldwide. Hungarian medical degree is recognised all over the European Union, which enables holders of the degree to practice in all member countries without taking further exams. Based on our previous experiences, graduates of Semmelweis University also achieve excellent results in countries, such as the USA, Japan and Israel, where licensing examinations are required.  Read more →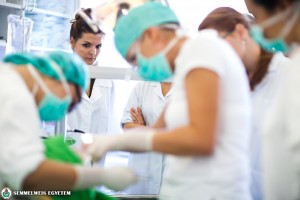 Practice and patients in focus
Semmelweis University's international reputation was founded by its outstanding level of theoretical and practical education. The acquisition of practical skills is done in small groups, which creates a solid basis for the establishment of close student-teacher relationships. Semmelweis University is one of Hungary's largest health care providers; its four clinical centres accommodate nearly 40 departments where patient care, education and research go hand in hand. Students of the university benefit from this academic structure in numerous ways. Read more →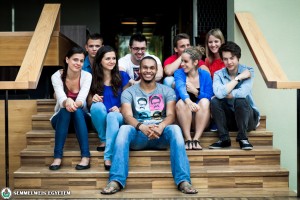 30 years of experience in international education
German and English language programmes have been available at the Faculty of Medicine, Dentistry and Pharmacy for over three decades. German language programmes have been run at Semmelweis University since 1983 while the English language programme was founded in 1989. The first two academic years are taught solely in English or German, however, participation in clinical practice requires that students acquire a certain level of Hungarian language skills to be able to communicate with patients. Semmelweis University has three international campus programmes, including the medical programme in Germany, the physiotherapy master's programme in Switzerland and the Health Manager master's programme in Slovakia.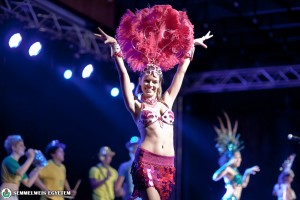 Multicultural environment, vibrant student life
Students from over 70 countries from 5 continents study at Semmelweis University. The most represented countries are Germany, Norway and Iran, however there are students from Yemen, Mongolia or Vietnam as well. The university's cultural, scientific and sport events are open to Hungarian and international students, enabling them to socialise and feel at home as active members of a real multicultural community. One of the most important events is Semmelweis Carnival bringing together hundreds of students and offering insight into different cultures. Read more →
Live in an exciting metropolis in Central Europe!
Semmelweis University is located in the centre of the Hungarian capital. Budapest is an exciting metropolis in the heart of Central Europe at the crossroads of past, present and future, offering a wide variety of cultural entertainment, tasty local food and vibrant nightlife. Budapest is not only a cultural hub, but the home of several universities and colleges. Student life is centred around libraries, cafes and eateries during the day, while at night cinemas, theatres, bars, clubs and concert halls provide entertainment for all tastes. Studying and living in Budapest promises to be an experience of a lifetime!