Address H-1134 Budapest, Róbert Károly krt. 44.
Tel.: (+36-1) 475-2551
Fax: (+36-1) 465-1896
Email: katasztrofa@med.semmelweis-univ.hu
Acting Director Professor János Gál, M.D., Ph.D., D.Sc.
Background Founded in 1970, the Department of Military, Disaster and Law Enforcement Medicine is the basis of postgraduate and continuing education, as well as scientific research in the related fields.
Profile Organisational, teaching and research aspects of military and catastrophe medicine.
Education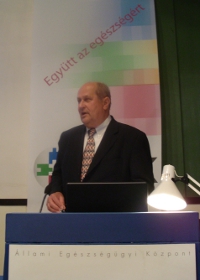 The Department provides methodological help and guidelines for teaching military and disaster medicine at medical universities and for the related training programmes and continuing education of medical students, physicians, specialists and pharmacists. It is responsible for the special training and continuing education of the leading staff working in the civilian health service and for the education and training of specialists required in emergency situations (e.g. disasters, armed conflicts).
Certification in Military and Disaster Medicine became possible in 1993.
Health Care The Department operates in the Military Hospital – State Health Centre under a cooperative agreement.
Research Research activity at the Department is focused on the following:
organisational issues of medical support under special (disaster) circumstances;
surgical care of wounded and management of burns;
organisation of medical care for patients with intoxications and radiation sickness in disasters;
responsibilities of the family doctor in a disaster situation;
thermic disasters, pathomechanism of skin burns;
admissible compromises in preparation of blood processing solutions and blood sampling devices;
organisation of medical supply in a disaster situation.