Address H-1125, Budapest, Kútvölgyi út 4.
Tel: +(36-1) 325-1100, ext. 57351
Fax: +(36-1) 375-4291
Email: titkarsag.seb2@med.semmelweis-univ.hu
Web: https://semmelweis.hu/sebeszet2/education/
Director and Chairman Associate Professor Gábor István
Background The 2nd Department of Surgery, successor of the Surgical Faculty of Semmelweis University of Medicine (now Semmelweis University) was established in 1997 at the Kútvölgyi Clinical Block as the result of a large scale merger of various University departments into a university medical and training centre.
Profile Widespread clinical practice in all fields of general, gastrointestinal, hepato-biliary, coloproctological and endoscopic surgery. The Department undertakes major thoraco-abdominal surgery for benign and malignant diseases of the oesophagus and stomach. It  was one of the first to introduce laparoscopic surgery and made laparoscopic cholecystectomy a gold standard in the mid-nineties for the removal of gallstones, as well as laparoscopic repair of bilateral and recurrent groin hernias. A great effort is made for the laparoscopic approach to become a standard for major colorectal surgery, including sphincter-saving surgery for rectal cancer, as a speciality. Laparoscopic adrenalectomies, splenectonies and fundoplication for GERD are also routinely performed. The Department provides emergency surgical care once a week for urgent surgical cases in Budapest, and non-stop, 24-hour admission for emergency cases of the agglomeration.
Education The Department is committed to the education and training of medical students, residents, and fellows. Surgery is taught according to the university curriculum to fourth and fifth year medical students, in the form of weekly lectures, daily practicals, and oral examinations at the end of each semester. Qualification examinations and finals on general surgery are held each year for the sixth year interns, following an eight-week internship.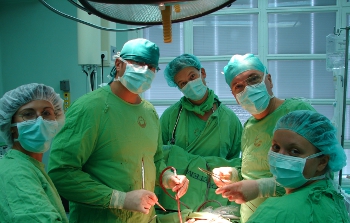 Since its establishment, the Department has been accredited to admit surgical residents and to hold a complete residency programme in general surgery by providing all up-to-date training facilities and preparation for board exam. Surgery residents participate in all phases of patient care. Patients are seen pre- and post-operatively in clinics supervised by teaching staff. Residents perform primary assessment prior to operation and/or hospitalisation, conduct daily rounds independently and with the teaching staff, and assume progressive operative responsibility supervised by the teaching faculty. Experience at Semmelweis University Kútvölgyi Training Hospital involves care of many critically ill patients with a wide spectrum of pathophysiology who are referred either primarily or following complications after operations elsewhere, for complex, high-risk care. A sophisticated intensive care facility with computer capability allows the surgical trainee an opportunity to integrate voluminous on-line data in the day-to-day care of seriously ill patients. Faculty rounds are made twice a day to augment bedside patient care teaching. Ambulatory experience is acquired in the Department of Surgery faculty practice area and at the Outpatient Ambulance with well-equipped examining rooms, an endoscopy suite, radiological department, minor procedure room, and a conference room for teaching.
Postgraduate courses in colorectal and sphincter-saving surgery, as well as mandatory general surgical extension and refresher courses are held annually to demonstrate advances in operative procedures of the field.
The Department serves as a training site for summer practicals for local and visiting foreign medical students through IFMSA. A special English-language course on emergency surgery is available for foreign students each semester.
Health Care As a major teaching hospital, Semmelweis University's Kútvölgyi Clinical Block offers its patients access to treatments, therapies and procedures that are found only in the most advanced academic medical centres.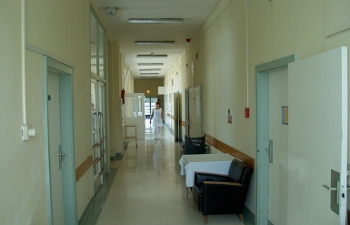 The Department of Surgery is a 24-bed University medical facility with three up-to-date operating rooms containing sophisticated monitoring, contemporary anaesthetic equipment and HD imaging modalities with ultrascision and ligasure devices for widespread laparoscopic and minimally invasive surgery.
More than 1,500 operations are performed annually, 30 percent of which are for tumours and 20 percent in emergency conditions. A remarkable number of patients with groin and abdominal wall hernias and varices are treated through one-day surgeries. An onco-team is available for all patients with tumours and hosts a number of multidisciplinary programmes and therapeutic modalities involving surgical faculty and house staff including: adjuvant and neo-adjuvant therapy for patients with berast cancer and GI-oncology. The average length of stay for inpatients is 3.6 days.
Research Clinical research is based on prospective and retrospective evaluation of short and long-term therapeutic results and immuno- and histopathologic analysis of patients with breast, oesophageal, gastric, pancreatic and colorectal malignancies. These studies are supported and supervised by board surgeons and carried out by undergraduate surgical demonstrators and residents as part of residential training.
Five board-certified staff surgeons obtained long-term visiting scholarships and fellowships in the USA, Germany, France and Japan, each pursuing  individual experimental multi-centre projects in studying evaluation scores for disease severity  and increased RES function in experimental acute pancreatitis, clinicopathology and flow cytometry in pancreatic intraepithelial neoplasms (PanIn) and evaluation of predictive factors in oesophageal and rectal cancer by means of immuno-histochemical procedures and PCR techniques.
Another completed experimental molecular study was conducted in anticancer and antimetastatic research analysing the role of angiogenesis, lymphangiogenesis in tumour progression, and haematogenous and lymphogenous dissemination in preclinical models.
Four of the above studies resulted in theses and successfully completed Ph.D. degrees.
Two junior residents are engaged in studying the roles of metallopreteins in CRC, and isolating and evaluating circulating-cell free-DNA and microRNA from peripheral blood of patients with colorectal cancer aiming to identify disease specific early diagnostic nucleic acid markers.