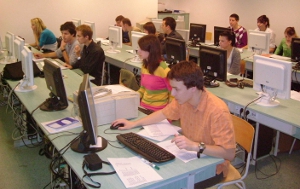 Address
H- 1082 Budapest, Üllői út 78/b
Tel.: (+36-1) 201-0328, ext. 5154
Fax: (+36-1) 210-0328/51832
Email: dinya.elek@public.semmelweis-univ.hu
Director
Associate Professor Elek Dinya, med-inf habil., Ph.D.
Background
The Institute of Health Informatics Development and Further Training was established in 2004 at Semmelweis University. It is a founding Institute of the Faculty of Health and Public Administration (established in 2010).
Profile
The mission of the Institute is to improve health outcomes through information systems (including health, economic, and satisfaction results for consumers and providers) in both the public sectors of health care and public health systems. To accomplish this mission, the Institute assumes three major responsibilities:
Educating students, biomedical and public health professionals and the healthcare and public health communities in the field of biomedical informatics.
Promoting and conducting research to broaden health and biomedical informatics knowledge.
Serving  health informatics professionals and consumers by participating in relevant professional societies and continuing education programmes, while maintaining biomedical informatics leadership within the community.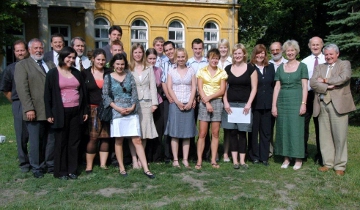 These responsibilities involve the active collaboration of faculty and students at Semmelweis University's faculties of Medicine, Dentistry, Pharmacy, Health Sciences, the School of Ph.D. Studies and other associated hospitals and clinics.
The Institute currently employs over 20 individuals, including faculty, administration, biostatisticians, programmers, computer technicians and data managers. Many of our faculty members have joint appointments with other schools and/or institutes including Statistics, Computer Sciences, Preventive Medicine, Business, and Educational Sciences. In addition, the Biomedical Computing Lab provides computer support for the Institute.
Education
The Institute teaches biomedical subjects at various levels to students of all six of the University's faculties.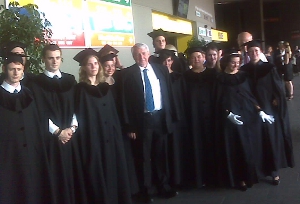 Some subjects include:
Data, information, knowledge and decision in the medicine and health care;
Classification and coding systems, ICD-10;
Informatics in the prevention;
Networking;
WEB 2.0 and the health care system;
Signal analysis and image processing;
Standards in medical informatics;
Information systems in health care;
The electronic patient record;
Knowledge management;
Data security in health systems
Digital signatures;
Informatics of the primary health care and drug management;
Health care financing and informatics;
Health and health care statistics;
Telemedicine;
3D visualisation
Teaching currently takes place in Hungarian, English and German. Our Ph.D. Health Informatics programme is set to launch in September 2011.
Research
A major goal of the Institute's faculty and staff is to collaborate in the design, conduct, and analysis of laboratory, clinical, and epidemiologic studies in a variety of biomedical disciplines and institutes.  The Institute is organised into three research and training programmes: Medical Informatics, Biostatistics, Telemedicine.
International Relations
The Institute is involved in several international collaborations in education both in Europe and overseas. We have recently started new relations with Canadian health education institutes.
Projects
The Institute has many significant innovation projects in telemedicine, knowledge management, and knowledge-based systems. We are permanently searching for new research possibilities.
Publications
Textbooks
An example of books published by the Institue are biostatistics textbooks. These books are primarily made for students studying the subjects offered by the Institute, but they may also benefit interested professionals.
Papers
The Institute publishes scientific papers in high impact factor English-language journals, in cooperation with faculty members from the University's Faculty of Medicine and other well-known experts. The scientific results are very significant in medical areas.