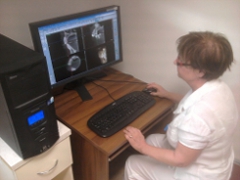 Address H-1088 Budapest, Szentkirályi u. 47.
Tel.: (+36-1) 459-1500, ext. 59161/ 59164; (+36-1) 317-1044
Fax: (+36-1) 459-1500, ext. 59165
Email: oralis.diagnosztika@dent.semmelweis-univ.hu
Director Professor Csaba Nagy Dobó, D.M.D., Ph.D.,
Background The Department of Oral Diagnostics is one of the youngest departments within the Faculty of Dentistry. It was founded in 2011 through a resolution of the University Senate, integrating the Independent Section of Radiology, the Section of Oral Diagnostics, and the Section of Dentoalveolar Surgery.
Profile The Department of Oral Diagnostics provides initial medical attendance using 3D diagnostic imaging techniques, as well as the latest chairside diagnostic tools. After initial diagnoses are completed, patients are either treated within the Department or redirected to other departments of the Dental Clinical Centre.
Oral surgeons of the Section of Dentoalveolar Surgery provide emergency and non-emergency surgical treatments with state of the art technology.
The Section of Dental Radiology operates three panoramic and seven intraoral X-ray instruments equipped with CCD sensors. The section also operates a 3D Cone Beam CT, which is very effective in dental implantation planning.
Education The Department covers the following dental topics: Oral Diagnostics, Radiation Safety, and General and Dental Radiology.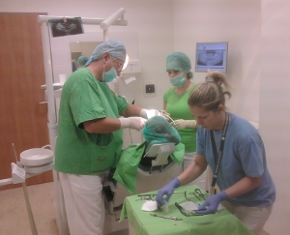 Oral Diagnostics is an important subject in the training of 3rd and 4th year students, where students acquire comprehensive medical and dental knowledge on how to diagnose dental diseases and how to make an official dental record.
Radiation Safety is a prerequisite for General and Dental Radiology, as well as for the use of X-ray instruments, as required by local and international law.
General and Dental Radiology meets the requirements of the 21st century and ensures authoritative diagnoses. During optional training, students will acquire the ability to recognise oral cancers.
Health Care Many patients' first encounter with health care occurs as the result of a toothache. Thus, dentists play a very important role in recognising systemic diseases in their initial phases during oral examinations.
Research The department hosts the Material Science Research Institute where international collaborative work on rational optimisation and design of biocompatible dental materials is carried out.
Last updated: March 18, 2013