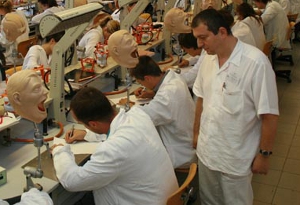 The dentistry programme  is ten-semesters-long; students who successfully complete the programme and pass the Final Board exams at the end of the training period are granted the Doctor of Dental Medicine (D.M.D.) degree.
Postgraduate courses are available at the Faculty of Dentistry, ending with a specialty exam in the following fields:
Paedodontics
Orthodontics
Periodontology
Dentoalveolar Surgery
Conservative and Prosthetic Dentistry
The language of the postgraduate courses and the specialty exams is Hungarian. The courses convey theoretical knowledge and practical skills.
If you wish to take a specialty exam, you must meet the following requirements:
a specialty exam may be taken after 36 months of professional practice fulfilled as an employee, according to Hungarian law. To complete this practice, therefore, you must obtain a work permission;
professional practice includes theory and treating patients. You will need a good command of the Hungarian language to understand theory, and be able to communicate with patients;
Non-European citizens must have their degree nostrificated.
The Faculty of Dentistry has an accredited Ph.D. programme called Research in the Dental Sciences.
Currently, there are nearly 800 dental students studying at the Faculty, 40 percent of whom are international. The Faculty has 100 full-time and part-time professors and tutors. The major theoretical and clinical subjects are taught by the Faculty of Medicine.
Application and curriculum information:
English language programme