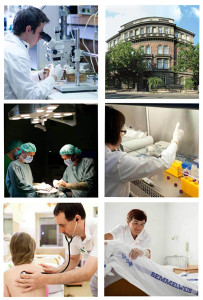 Responding to the rapidly changing domestic and international environment, Semmelweis University has established a number of university-owned companies in recent years. With the help of these companies, the University now offers a variety of business services and aims to strengthen its position as an attractive partner for those seeking investment and cooperation opportunities in Hungary.
Click on the links below for a brief overview of each company.
Semmelweis Health Care Service Ltd.
Wholly owned by the University, Semmelweis Health Care Service Ltd. (SEK) offers high quality private health care services using Semmelweis University's clinical background and the expertise and professional experience of its clinical physicians. Its services are sought out by Hungarian and international patients alike, for a variety of reasons, including long waiting lists, the particular service not being covered by the National Health Service Fund (OEP), or simply because they wish to receive superior care.
SEK's services are provided at the University's various clinical departments in offices specially designed for the purpose, and with the participation of its current and former specialist doctors.
Website: www.semmelweiskft.hu
Tel.: (+36 1) 327-0452
Fax: (+36 1) 327-0451
Email: info@semmelweiskft.hu
Semmelweis Publishing and Multimedia Studio Ltd.
Semmelweis University renewed its over ten year-old publishing company under the name Semmelweis Publishing and Multimedia Studio. Its express intent is to serve Hungarian medical, pharmaceutical, and natural science with due humility and in a way that is worthy of the University's national and international reputation, while taking a decidedly new and modern approach.
Its goal, on the one hand, is to maintain and further develop Semmelweis Publishing's reputation and renown; on the other hand, it seeks to participate in the specialty publishing industry as a whole, through a larger market share. Semmelweis Publishing endeavours to be a professional and quality determinant in Hungarian specialty publishing, safeguarding the Hungarian medical, pharmaceutical and natural science publishing traditions. This is made possible by our experienced and committed staff, working under the direction of an excellent management team.
Website: www.semmelweiskiado.hu (in Hungarian only)
Address: 1089 Budapest, Nagyvárad tér 4.
Tel.: (+36 ) 210-4403
Fax: (+36 1) 210-1904
Email: info@semmelweiskiado.hu
Bionic Innovation Centre Ltd.
Bionics is the science of the adaption mechanisms of living organisms and was introduced into the university curriculum as a common course of Pázmány Péter Catholic University and Semmelweis University half a decade ago. The course provides a solid basis for the establishment of an expertise that is inevitable in the new fields of bionics, as it provides a complementary knowledge of the two universities.
The Bionic Innovation Non-profit Ltd. was founded by Semmelweis University and Pázmány Péter Catholic Universtiy with the aim of establishing the state sponsored Bionic Innovation Centre (BIK), and its foundation stone was laid down in March 2015. The aim of the Centre is to develop applications for patient care based on theranostics (theranostics = therapy+diagnostics), which exceeds the quality and cost efficiency of previous methods of patient care. They strive to introduce and develop so-called "lab-on-a-chip" mobile devices, which would enable laboratory tests to be carried out either with inpatients or outpatients, requiring a minimal amount of samples. The next step would be the analysis and the processing of the various diagnostic data gained by the laboratory tests. This means that Semmelweis University would not only participate in the development of the project, but would become the primary user of the results.
Website: http://www.bik.hu/hu
Address: 1088 Budapest, Práter utca 50.
Tel: +36 1 790 66 05
E-mail: bik@bik.hu
SMS – Semmelweis Medical Studies Ltd.
The company aims to manage and organise the seamless enrollment of foreign students at Semmelweis University.
With the help of its network of international partnerships, the company promotes the university's foreign language programmes as well as organises the application and enrollment procedures.
 
Telephone: +36 30 312 46 63
E-mail: info@sth.hu