As part of the traditional spring scientific programs of Semmelweis University, at the 2018 PhD Scientific Days 188 PhD students of the seven PhD Schools introduced their latest research and clinical results in eight presentation- and eight poster sections. This year, for the first time, this conference is the official part of the New National Excellence Program, where PhD students, doctoral candidates and post doctors who received support in 2017, also presented their scientific results.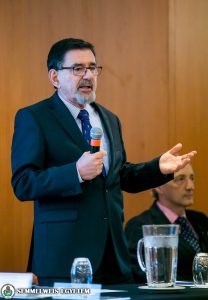 Dr. Ágoston Szél, Rector, emphasized in his opening speech that the higher education law defining the requirements of PhD training was introduced 25 years ago. He also highlighted the work of Dr. Miklós Palkovits professor emeritus, the opening lecturer of the event, who is the most successful Hungarian researcher based on his 46 thousand citations and his 106 Hirsch Index, he is a member of the Hungarian Academy of Sciences, Széchenyi Prize winner and has also been nominated twice for the Nobel Prize. Rector Szél also added that after the law amendment in 1993 the brain researcher took part in the evolving of doctoral training of Semmelweis University.
The President of Doctoral Council, Dr. József Tímár, drew attention that since last year the program of PhD Scientific Days, to suit students' needs in the 21st century, has been formed to be environmentally conscious. Mobile applications are used instead of the paper-based abstracts and the presentations in the poster section can be performed in digital format.
Dr. Tímár also talked about the fact that this 2-day conference ensures a platform for the students to introduce their results, to practice the presenter role and to develop presentation techniques, which are very important now as students have to take complex exam in the reformed PhD training.
In his speech Dr. Tímár mentioned the New National Excellence Program, which has been in process under the Ministry of Human Capacities for three years. In the frames of grants, this year 75 million forints are available for Semmelweis University that, among others, can be used for scholarship supplement of PhD students.
The forum's opening speech was held by professor emeritus Dr. Miklós Palkovits. He summed up his talk in a quotation by János Szentágothai, "The science should be a very serious fun", which he also chose as the title of his presentation. He explained that researchers can achieve great success in science if they look at their profession as a hobby. As the pledge of success, he named the desire to prove and the so-called "virtue" as well as the material knowledge without which it is impossible to reason and argue.
In the first half of his talk, he brought examples of moments of reverence in his career, talked about his secondary school Biology and Chemistry teachers, who were obsessed with science, and told some anecdotes from his youth. He said he had dealt a lot with how to paint information-bearing neural pathways or what happens when these paths are cut. He revived the story of the "Palkovits Glass Knife", according to which surgical blades of metal were used at that time, but guided by Palkovits's idea, a knife-like instrument was cut out of a glass cover plate, used for histology, with diamond. The device thus obtained was much thinner and finer than the metal surgical knife.
Regarding his successes, he mentioned the internationally unique Human Brain Bank at Semmelweis University's Department of Anatomy, Histology and Embryology, where sixty thousand different samples are stored currently and which has provided samples for ten NAP research groups besides their own research.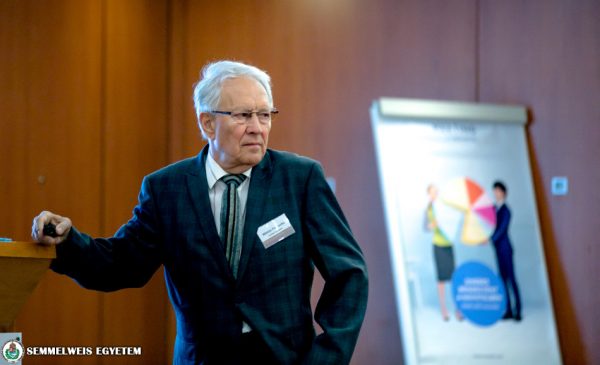 "There must be something which you know better than others; then whoever you work with, you will be equal partners," said Dr. Miklós Palkovits, who thinks that the first and most important thing for a researcher is to have his or her "own style".
For the first time this year, the PhD Scientific Days became the official event of the New National Excellence Program, at which PhD students, doctoral candidates and post doctors who had received support in 2017 presented their scientific achievements.
Among the invited speakers of the two-day event were two excellent PhD lecturers, Dr. Béla Noszál, professor emeritus of the Department of Pharmaceutical Chemistry and Dr. Ilona Kovalszky, professor emerita of the 1st Department of Pathology and Experimental Cancer Research, as well as Dr. Pál Maurovich-Horvat, associate professor at the Heart and Vascular Centre.
You can download the list of prize-winning presenters by clicking here.
Zsófia Haszon
Photo: Attila Kovács  – Semmelweis University
Translation: Diána Módos, Edina Szendreiné Nagy