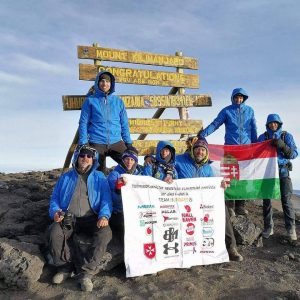 The Medical University of Vienna, which belongs to the world's leading lung transplantation centres, organized an international expedition with the participation of lung transplant patients for the first time. During the tour the Hungarian members of the expedition successfully managed to climb the highest mountain of Africa, Kilimanjaro (5895 m).
Before the tour, the participants had a thorough preparatory period, they had the opportunity to have consultations with physicians and physiotherapists. They also trained hard physically in order to gain a perfect physical state. Altogether two transplant patients and their accompanying team members participated in the Hungarian team of the international expedition, among whom there were two physicians, one engineer and one physiotherapist. The two lung transplant patients both had received a new organ in Vienna: Péter Garda had an operation 13 years ago, Krisztián Balogh had a transplantation 1.5 years ago.
Dr. György Lang, Director of Semmelweis University's Department of Thoracic Surgery at the National Institute of Oncology also participated in this expedition as a member of the doctors' team, and he also successfully climbed Kilimanjaro. As Dr. Lang explained, there were Hungarian, Austrian, Romanian, Slovenian, Italian, Croatian and Greek participants in the expedition, altogether 10 lung transplant patients and 20 accompanying team members. Some of the team members had to turn back or had to choose a different route, therefore acclimatization was not always successful. Dr. Lang emphasized that with this expedition they aimed at calling people's attention to the importance of organ transplantation, as well as to show that it is possible to live a full life with a transplanted lung, too.
Orsolya Homonnay-Bukovenszki
Photo: Team Lungari (Facebook page)
Source: MTI
Translation: Katalin Illés-Romhányi