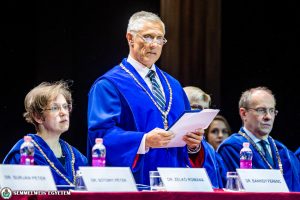 Dr. Ferenc Bánhidy, Vice-Rector for General Affairs, and Dr. Romána Zelkó, Dean of the Faculty of Pharmacy conferred a Doctor of Pharmacy degree upon 131 graduating pharmacy students: 20 graduating students received summa cum laude degree, 73 of them received cum laude degree and 38 of them received rite degree. The Graduation Ceremony of the Faculty of Pharmacy was held at Madách Theater. The ceremony was officially opened by Vice-Rector Bánhidy, afterwards a graduating medical student, Nóra Petra Engler officially submitted the conferment request.
On behalf of this year's graduating pharmacy students Dr. András Szilvay held a speech in Hungarian. According to him the doctoral degree signifies the tough challenges behind them, and remind them that their profession is to help other people. He also added that a graduation day is about three things: joy, nostalgia and gratitude. Dr. Szilvay thinks that the graduating students would not be able to stand here only on the basis of their own resources, they received a lot of help from a lot of people. Afterwards Dr. Schlieper Valentin addressed the audience in German and Dr. Whelan Byrne Emmet gave a speech in English.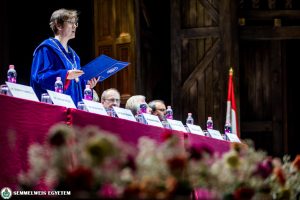 "I would like to thank my fellow teachers not only from the Faculty of Pharmacy, but from the Faculty of Medicine and Eötvös Loránd University's Faculty of Science, whose commitment and proficiency towards education have been outstanding. The value of diplomas and their reputation have changed a lot lately, however, a pharmaceutical degree still has a high prestige and is well respected if it is paired with an open-minded and creative personality, who is able to apply the acquired knowledge in practice. You did not choose a profession but a vocation that serves other people. The pharmaceutical vocation is an autonomous and open-ended activity, which is determined by the patient's often changing and unpredictable needs. The best remedies for the patient's vulnerability are devotion, supportive respect and love. When recalling the solemn oath you have taken, do not forget your duty to continuously educate yourselves in order to provide the best possible service in prevention and patient recovery. Also, never forget the importance of self-learning. I hope that the life and work of Ignaz Semmelweis will serve as a guiding line for you during your professional career; always be sincere with yourselves and make use of the liberty of honesty.", said Dean Zelkó during her ceremonial speech.
During the ceremony the "Teaching Pharmacist of the Faculty of Pharmacy, Semmelweis University" award was handed over. Those teaching pharmacists are awarded with this title, who had been engaged in the compulsory summer practical training of the pharmacy students for a long time, as well as in the preparation for the General Boarding Examination (GBE), who are teaching the students efficiently on a high standard and who are continuously developing their theoretical and practical knowledge. The awarded prize-winners this year were Dr. Judit Bárkányi, Department Head of the Development of Drug Technology and Analytics at Béres Pharmaceuticals; Dr. Ágota Biczó, Head of the Pharma Patika Újpest Pharmacy; and Thomas Müller-Uri, pharmacy teacher of the German language programme offered at the Institute of Pharmaceutical Management of Semmelweis Pharmacy.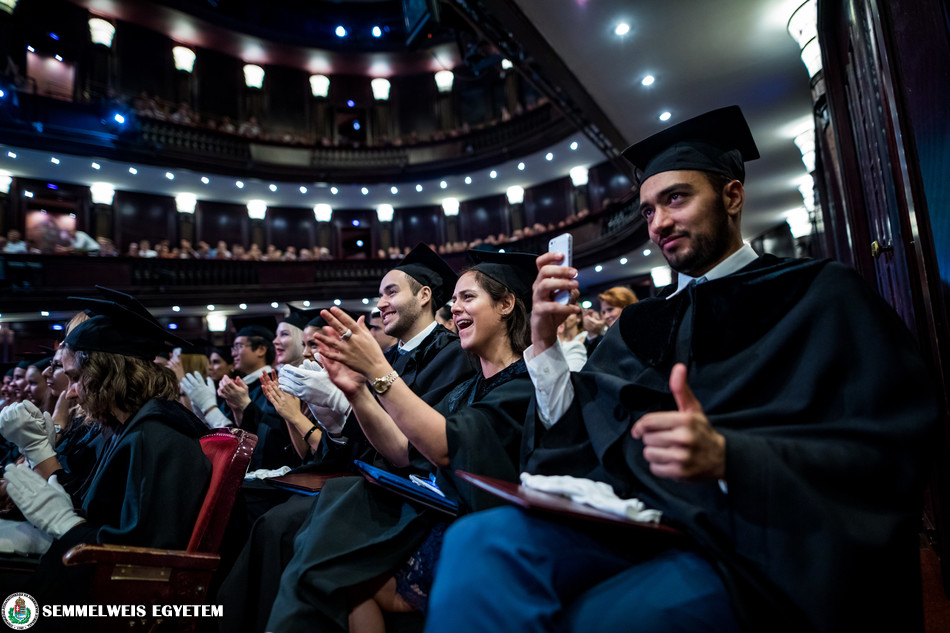 The "Associate Teacher of the Faculty of Pharmacy, Semmelweis University" award was handed over to Dr. Tamás Horányi, Head of the Department of Drug Registration at Béres Pharmaceuticals. With this award the Faculty of Pharmacy recognizes the excellent performance of those teachers who are not pharmacists by qualification, but who have been engaged in the instruction of pharmacy students at least for 5 years and who have been doing an academically significant professional work proven by publications and professional academic degrees. The Award entitled In Memoriam of Károly Zalai was awarded to Dr. Ádám Jánoska. This award can be provided to such a graduating pharmacy student, who has accomplished his/her university studies with excellent, exemplary results, who has done research on his/her own related to an area of pharmacy or medicine and who has published the results of the research in a scientific journal.
Orsolya Homonnay-Bukovenszki
Photo: Zoltán Adrián
Translation: Ágnes Raubinek, Katalin Illés-Romhányi