674 participants attended the seventh Graduation Ball at Nagyvárad tér Theoretical Building, which was organized by the Alumni Office of Semmelweis University. Graduating medical students represented all the faculties of the university at the event.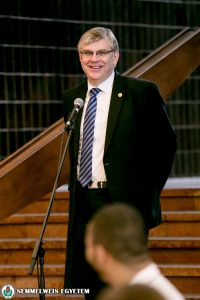 The ball was officially opened by Dr. László Hunyady, Dean of the Faculty of Medicine, who quoted the words of Csaba Böjte: "Your medical diploma, your titles and achievements would not worth anything if your parents had purchased it for you in order to save you from the demanding burden of examinations and competitions, if it had not been you who had fought for it yourself." Dean Hunyady expressed his special appreciation for the graduating students of the Faculty of Medicine, who had played a great role in the implementation of the new innovative ideas initiated by the Faculty. As Dean Hunyady explained, starting from September an American type of a resident training programme will be launched at the 3rd Department of Internal Medicine. In the beginning, five students can participate in it. Its major purpose is to have junior and senior residents working together, according to which senior residents are also teaching and training their junior colleagues.
According to Dr. Dániel Oláh, Head of the Alumni Office, 358 guests participated in the Gala Dinner during the Graduation Ball. The photo stand was the most popular among the participants, and in their feedback they all highlighted the elegant decoration, which made their last university party especially memorable.
Eszter Keresztes
Photo: Attila Kovács – Semmelweis University
Translation: Katalin Illés-Romhányi