The Hungarian team taking part in the 22nd World Transplant Games took its ceremonial oath at Semmelweis University, the largest center for organ transplantations in the country. A total of 51 adult and 3 junior athletes will represent Hungary in 11 different events at the competition which will be held this year in Newcastle, Great Britain. The team includes 32 kidney, 9 liver, 3 combined kidney-liver, 1 lung, 3 heart and 6 bone marrow transplant patients. Most of the operations were carried at the university's Department of Transplantation and Surgery, where their after-care is also handled.
Péter Sárfalvi, deputy state secretary for sports facilities and sports relations at the Ministry of Human Resources, greeted the athletes as a former pentathlon athlete himself and called them true role models. "If we feel we are facing an insurmountable problem everything else dwarfs when we look at you. You are the ones we can look up to, who give us new inspiration day after day to pursue sports," the deputy state secretary said.
Vice-rector for clinical affairs Dr. Attila Szabó highlighted the significance of the athletes taking their oath at Semmelweis University, which celebrates its 250th anniversary this year, noting that the university is the largest organ transplant center in Hungary as well as Central Europe both for adult and child patients. He also emphasized the importance of teamwork in achieving success in sports, stating that in addition to trainers, fellow athletes and family, in this case also standing behind the athletes are the doctors and health care workers who have already helped them achieve victory at the biggest race of their lives. "We, the citizens of Semmelweis University have fought and worked together so that you may live fuller lives, and now we stand behind you as fans, supporters and in many cases as friends, almost as family members, cheering for you to achieve your biggest success by showing a good example to others in terms of effort and integrity," said the vice-rector.
Judit Berente, the president of the Hungarian Transplant Federation, said that 11 of the 54 athletes traveling to the event will be first-time participants at a world-wide competition and will surely be a memorable event for them. She noted that every team member think of their donors with love and gratitude and will pay their respects to them through their sports achievements. She also thanked, in the name of the federation and the athletes, every health care worker in Hungary, without whose work they would not be here today. "As a sign of our respect, we are taking our oath in the ceremonial Semmelweis Salon," she noted.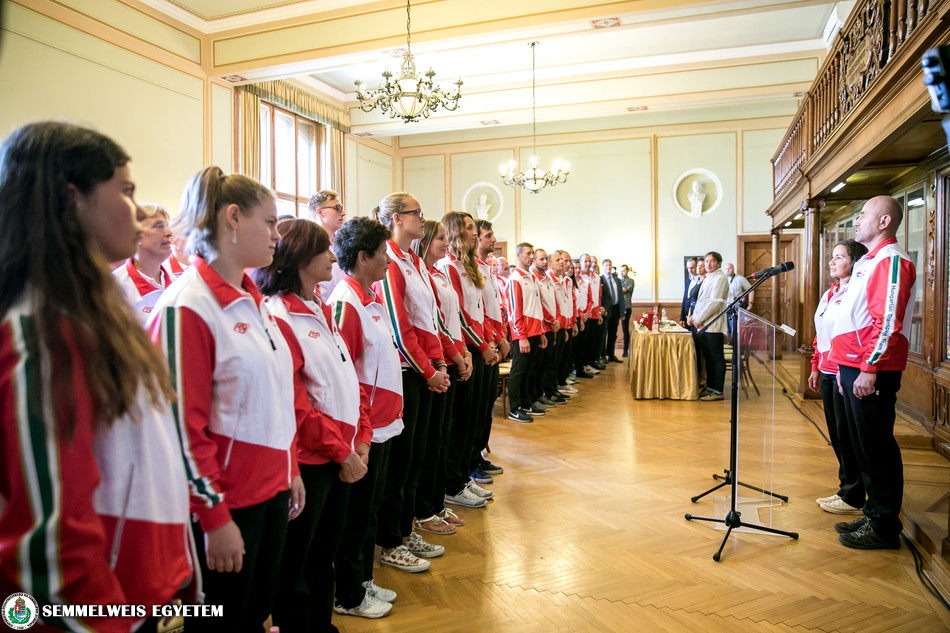 László Szabó, the president of the Hungarian Paralympic Committee, pointed out the tremendous achievements transplant athletes are capable of, even while facing serious difficulties. They are an example to others in this respect, which is a testament to their faith and determination, he noted.
The World Transplant Games, which is the biggest international sports event for those that have received organ transplants, have been held since 1978. This year will be the 22nd event and will be hosted by Newcastle from August 17 to 24. A total of 2237 transplant recipients from 60 countries around the world will participate. The Hungarian team first took part in the games in 1987 and has finished among the top 5 of the medal table every year since 1999.
The Hungarian team includes 51 adults and 3 juniors: 32 kidney, 9 liver, 3 combined kidney-liver, 1 lung, 3 heart and 6 bone marrow transplant patients, who will compete in 11 events (table tennis, athletics, bowling, darts, cycling, petanque, volleyball, tennis, badminton, triathlon and swimming). The team's goal is to again finish among the top 5 of the 60 participating countries.
Most of the team members, around 40 people, had their transplant operations at Semmelweis University's departments, where their after-care is also handled.
Krisztina Tőgyi, Pálma Dobozi
Translation: Tamás Deme
Photo: Attila Kovács – Semmelweis University