The staircase of the Central Administration Building (KIÉ) left the biggest impression on Chancellor Károly Szász when he first attended Semmelweis University years ago. He said, walking up the comfortable steps of the imposing building, that the walls decorated with portraits of former rectors of the university shows respect for the past and tradition in the building. In his opinion, it is important to keep these traditions alive and to appreciate the work of one's predecessors, but also to find ways to adapt to the challenges of the current age. "Our past must be preserved and complemented by what is new and ahead of us," the Chancellor said.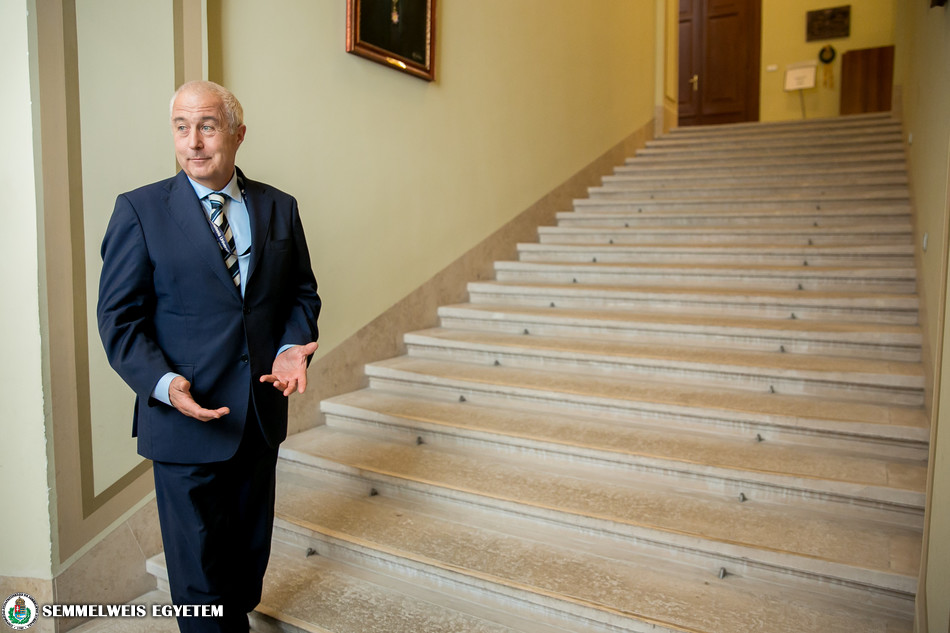 He explained that, from the very first moment, he tried to ensure the operating conditions by understanding the values ​​of the university and keeping true to them. What he loves most in his work here is that no two days are the same. Dr. Károly Szász was appointed for the first time in 2014, and again in 2017, as Chancellor of Semmelweis University. Previously, he was the president of the Hungarian Financial Supervisory Authority (HFSA) for almost seven years and also held positions in various credit institutions. During his career so far, Semmelweis University is the institution with the widest range of activities that he has led. He emphasized that teamwork is of great importance in his daily work, and that the results achieved so far are due to the fact that he has been able to surround himself with people who continuously complete high standards of work in their own field.
Eszter Keresztes
Translation: Faye Gillespie
Photo Credit: Attila Kovács – Semmelweis University
In our article series entitled "My University", we ask university citizens to show their favorite university location, and discuss its importance to them. These articles are a part of the celebration of Semmelweis University's 250th anniversary year.