The Saint Stephen Prize was awarded to the Heart Transplantation Group of the Városmajor Heart and Vascular Center. Dr. Béla Merkely, rector of the University, and Dr. Zoltán Szabolcs, university professor of the center and head of the heart transplantation program, received the recognition in the Knight's Hall of the Esztergom Castle Museum. In his acceptance speech, Dr. Béla Merkely stated that the prize is dedicated to the memory of professor Dr. Zoltán Szabó, who successfully performed Hungary's first heart transplant.
Before the distribution of the award, Marcell Jankovics, president of the Foundation awarding the prize, recalled that last year marked the 25th anniversary of the first Hungarian heart transplant, and that over the past two and a half decades more than five hundred people had received a new heart in Hungary.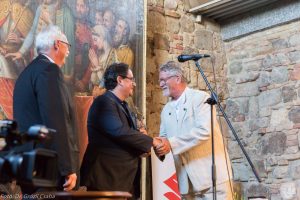 In his speech, Dr. Merkely spoke about how a near fifty to sixty surgical procedures are carried out by the program each year, making it the second largest clinical transplantation program in all of Europe. He dedicated the prize to professor Zoltán Szabó, performer of the of the first Hungarian heart transplant who, Dr. Merkely said, was considered a mentor to them all.
Dr. Szabolcs told us that in order for the clinic's heart transplantation program to run so successfully, the help of about 100 individuals is needed, ranging from surgeons to cardiologists to anaesthesiologists to post-care providers. The award was a representation of the joint work of the entire team – he stressed, adding that almost 20 team members from the clinic were present at the ceremony. The professor of heart surgery also pointed out that the clinic's 500th heart transplant was successfully completed the night before the award ceremony – a total of about 550 such surgical procedures had been completed in the entire country since 1992. The quality of transplantation work done by the clinic is well shown by the fact that among heart transplant recipients, the one-year survival rate of the procedure is more than ninety percent, he says. He believes that this particular award is especially significant as it comes from the civil sphere, meaning that people are aware of and recognize the hard work that the clinic's employees are carrying out 24 hours a day year-round.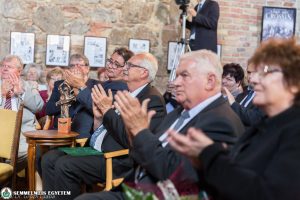 The Saint Stephen Prize Foundation was a civil initiative established in 2001 by Antal Bihari, head of Esztergom District Television, to support cultural life of Hungary as a whole and to conserve Hungarian heritage. The statuette's design, which was given for the 16th time in 2018, was the work of Miklos Melocco. The prize-winners are selected each year by the Board of Trustees after a series of polling and online voting.
This year's Saint Stephen Commemoration Medal was also presented at the ceremony. The medal was awarded to László Dolgos, the leader of the "Heart for a Heart" Association, which has been around for the past 25 years.
Pálma Dobozi
Source: Semmelweis Egyetem, MTI
Photo: Dr. Csaba Grózli
Translation: Faye Gillespie