Semmelweis University has participated at the Association of International Educators (NAFSA) 2018 Annual Conference & Expo in Philadelphia for the third time. The institution was represented at the event in the framework of the Study in Hungary programme, with the support of the Tempus Public Foundation.
NAFSA is the largest nonprofit organization in the world with the primary goal of supporting and promoting international education and exchanges. The 10,000-member association has more than 3,500 institutions worldwide in more than 150 countries. The event met with great interest this year as well: over 9,500 participants from over 100 countries joined the programme.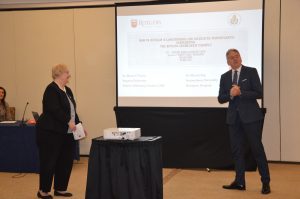 At the U.S.-Hungary Higher Education Forum preceding the conference, the Hungarian higher education institutions introduced the good practices applied in American partnerships. The joint academic and research collaboration between Semmelweis University and Rutgers University was presented by Dr. Marie O'Toole, Professor at the American partner institute, and Dr. Marcel Pop, Director of International Relations. The speakers detailed the antecedents, experiences and the future of the collaboration.
According to the head of the Directorate of International Relations, the conference provided an excellent opportunity to increase the university's international visibility, to maintain existing relationships, to establish new collaborations, as well as to indirectly affect the number of students from the region.
Source and photo: Directorate of International Relations
Translation: Diána Módos